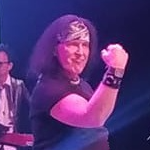 Rock Icon Dave Evans Takes the World by Storm with Upcoming Tours and Epic Performances!
06 Apr 2023
Dave Evans recently blew the roof off Zacatecas with a performance that left fans begging for more. His signature rock and roll sound was on full display, and he proved once again that he's still got it. Check out our social media post to see what all the fuss is about.
But the excitement doesn't stop there. On April 15th, Dave Evans will be performing in Juana de Arco, Argentina in a LIMITED CAPACITY EVENT. This is a once-in-a-lifetime opportunity to see the rock icon up close and personal. Don't miss out, book your tickets now! Check out this post for more info.
And that's not all. Dave Evans has just received a booking to perform at this year's Jelling Musikfestival in Denmark on May 25th. He'll be celebrating the 50th anniversary of AC/DC with a special show that is sure to be a hit with superfans. This is a night you won't want to miss, so mark your calendars now!
In other news, our Dave Evans fanpage has recently changed its username across all the platforms it is present on. Don't worry, all the content you love is still there, and we're excited to bring you even more updates on the rock legend. More details here:
Housekeeping aside, as hype as Dave's plans for the near future are set to be, we still have a big soft spot for our personal favourite work of Dave's, that being Sinner, so we're keen to recommend that as ever. Who knows – maybe his shows are gonna keep getting better to the point that they eclipse all else in the rock world! We'll just have to eagerly wait and see… Maybe the Sinner shirt in our wardrobe will have even more company soon! We got high hopes!
We hope that if you didn't know Dave Evans and his rockin' legacy before, this will help you get in touch with your long wild hair and 80s attitude once again – some merch could help with that! Show off your style and make the world remember what a real rocker looks like. For more information on the hardest working man in rock, you can visit his official links below. Dave Evans is a Blue Pie Records USA artist and is published for selected titles by Blue Pie Publishing USA (ASCAP)
Dave Evans: