The Eastside Boyz tour America! ERA Hip Hop Tour 2022!
20 Apr 2022
This weekend there's something very special coming up in Miami, Florida! The legendary Eastside Boyz are Pulling Up and getting ready to Gettem, this news got us hype and it might just do that for you, too! They're about to hit the road and throw some concerts just like back in the day!
That's right, this legendary hip hop duo are on tour baby! Which tour? The ERA hip hop tour, "bringing ENTERTAINMENT ROYALTY from the past 40 years to 2 stages for an unforgettable weekend of hips. Starting in Miami and moving on to New York and Los Angeles, ERA is bringing legendary artists to stages across the country." And entertainment royalty is correct. As far as the Boyz go, the KINGS OF CRUNK reign supreme! After all, the Eastside Boyz are one of those hip hop groups that have earned the elusive status of "permanent classics". Where can you get a piece of that pie? Well, check out the tour schedule right here!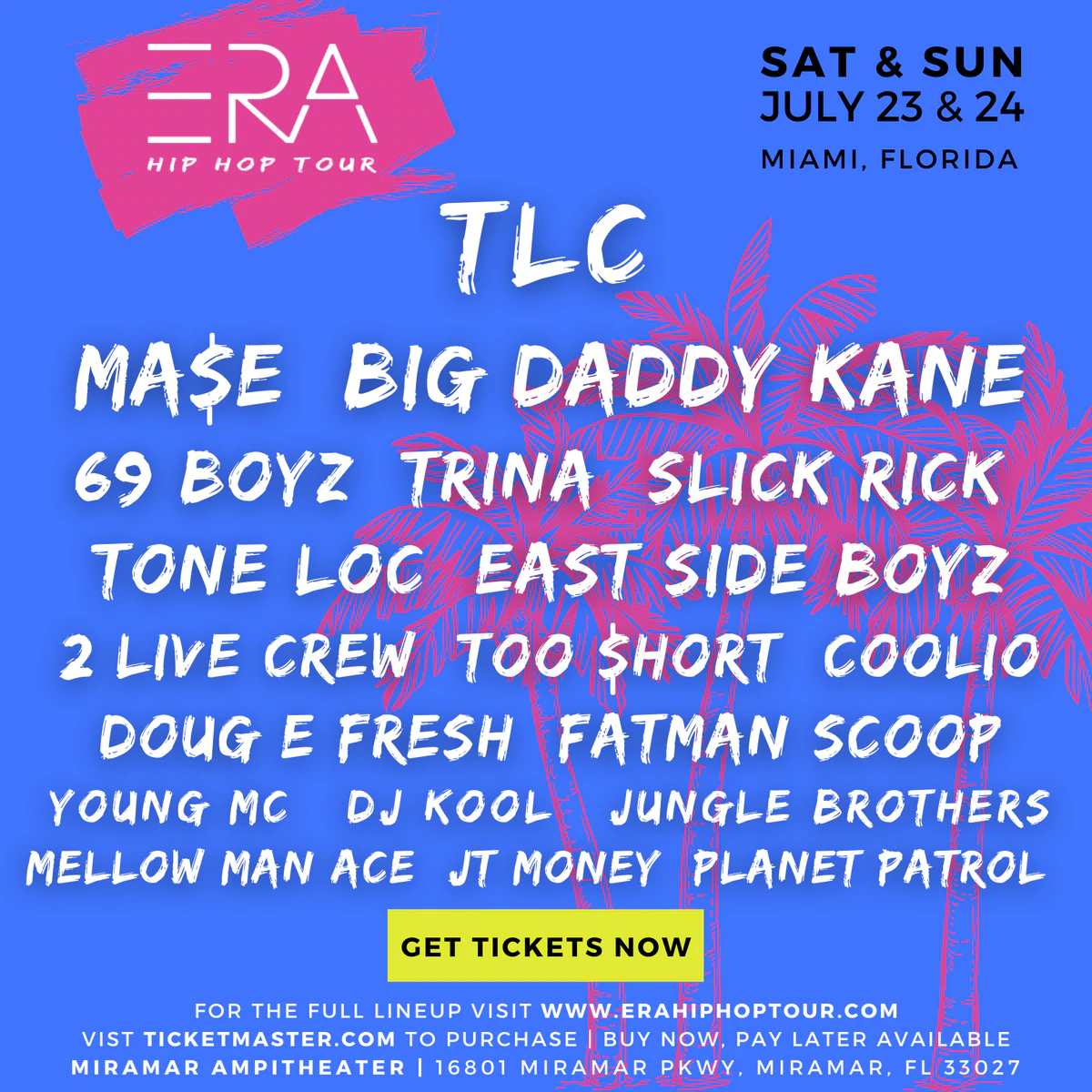 All the details about the tour dates, ticket purchase, and the line up of other artists featured can be found on the ERA website. Book your tickets FAST – this weekend is gonna be lit, and you do NOT wanna miss it! They'll sell out super fast! But that's okay, there'll be later dates across the USA… so check the website to find out more ASAP!
Most of the Eastside Boyz's work, you probably recognise from the late 90s and early 2000s, and even hearing their name might take your mind back into that crisp, youthful era that many of you readers would have either grown up with or lived through as a fresh part of the whole movement! Either way, you ain't immune to nostalgia, and nor are ERA, much to our joy. But with that being said, the Boyz have left their mark on the modern musical world too, with hits such as GETTEM, the promo they did with the Atlanta Falcons! Well, you heard the song. Get up, fans on the East coast! Rep that red and black! GETTEM!
But if that hasn't sold you on why the Boyz are part of the ERA crew yet, perhaps PULL UP will enlighten you?
Including a cameo by MC Breed, this particular track wasn't always a single. Indeed, most people would know it from the Greatest Hits album!
This album features a whopping 17 tracks of throwbacks and good times for the crunk court. Time to bow down – your kings of crunk have returned! But that's not right… because really, they never left! All the better for us. And if you REALLY need more, so much more that you might go BERSERK if you gotta wait any longer… well, click here. And enjoy the goodness that awaits any fans of good music worldwide!
SEE YOU AT THE ERA HIP HOP TOUR! REMEMBER THIS WEBSITE!
Be sure to check out some of the Boyz's other tracks:
Soundcloud: www.soundcloud.com/eastsideboyz-634813867
Spotify: play.spotify.com/artist/2JtgaGN6YYvAEtmqS5Zz9z
iTunes: itunes.apple.com/us/artist/the-east-side-boyz/id158124103
And follow them on social media and their website:
Web: www.theeastsideboyz.com
Facebook: www.facebook.com/TheRealEastSideBoyz
Twitter: twitter.com/eastsideboyzatl
Instagram: www.instagram.com/therealeastsideboyz