The Latin Bash on May 7th! Will DL Down3r see you there?!
09 Mar 2022
Yesterday we hinted at it, and today we're bringing you the sweet details! May 7th, the Latin Bash, Yakima with DL Down3r! Check it out!

The details are all in the poster. DL Down3r will be showing up with several other stars for the 3PM show, smoking out the Smoke It's Smoke shop with their fire tunes like it was nothing. Bring the whole family and snag those tickets on eventbrite and we'll see you in WA when the doors open at 2! Get in early, grab some show snacks, and get ready to bring the house down. We've seen many a time that Down3r can work a crowd, and this is bound to be no exception! After all, just think back to the Arena Wars show and how lit that was! If you aren't familiar, then perhaps you've seen this little vid on our Youtube and on the DL Down3r Fan Page Facebook…
We talked all about that yesterday, and the hype was unreal! And the Arena Wars organisers seem to agree, based on this comment we found here!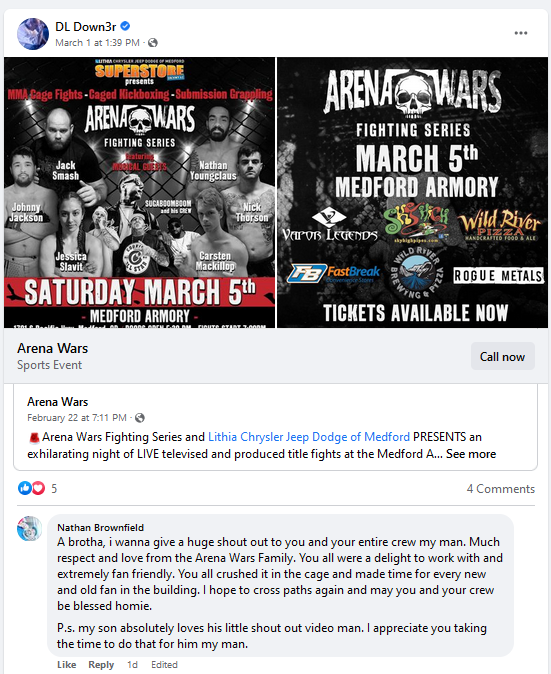 Super nice. And you can tell the people in the crowd and the Arena Wars fighters would have loved it just as much. DL is a natural fit for the stage like that. After all, when you look at DL's career, it's clear why they chose him and his crew to hype up the crowd.
As DL himself says:
"I am ready to take my music to the world and make a positive impact on everyone who comes into contact with it. One day I recorded my song Suga Boom Boom using a beat I did off of the refrigerator and uploaded it on Facebook, and overnight it went viral. It now has over 170 million views and counting. The song has taken on its own life and continues to grow everyday."
It has more than 170 million views now, when you count all the platforms it's on together! WAY more! Now that's a success story that we won't get tired of hearing.
Through fierce and funky west coast rap, Down3r shares his prolific work with the rest of the world, and the stage with west coast rap legends such as Coolio, Brown Boy, Jay Tablet, Lil Young, Snoopyblue, LadyDice, Baby Bash, Steel City Hustlers, King Z and DJ Kane to name a few.
From powerful messages, lyrical poetry and sharp comments on society, to G-funk and Trap/EDM hype songs, he proves that age and experience is the opposite of a liability in today's rap game. Blast it loud, get ready to feel something, and rest assured knowing that hip hop never died! And if you wanna witness that for yourself, there's only one place to be this May… SEE YOU AT THE LATIN BASH, FAM!
DL DOWN3R | OFFICIAL LINKS: