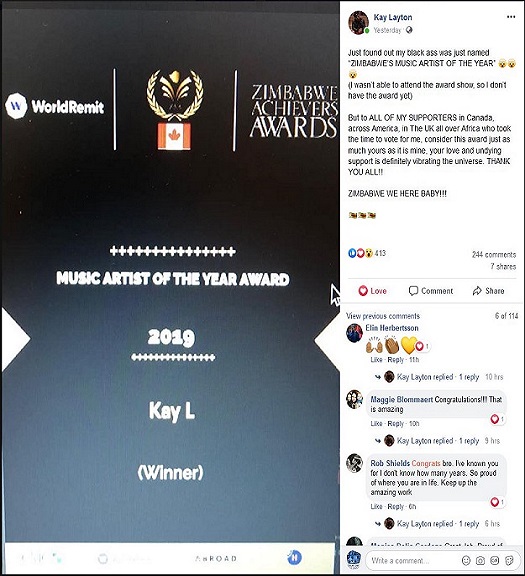 Take a gander at that beautiful sight! It's a dream come true- one that if you click here, you'll see that we were sitting with our fingers crossed and hoping for!
Kay L has taken the nomination that we mentioned in our last article about him and won it!
"An individual or group who have demonstrated great musicianship, quality and uniqueness of music, and performances throughout the year. They will have a huge presence and impact on their audience/listeners on multiple channels."
That's the criteria. Does that sound like Kay L to you? It sure does to me! So it makes sense that he won the "Music Artist of the Year" category! You can read all about it and check out the accolades of his fans and loved ones here! www.facebook.com/photo.php?fbid=10162157097180473
ZAA Canada (Zimbabwe Achievers Awards) have just granted Kay L the award. The other nominees were no slouches either, and their music was fantastic too- the likes of Ruvarashe Mutseka, Napitapi, Ekhaya Music, and Melissa Natasha – Rain Akai were also in the running! For the full nominations list for each category and more information, click here. Kay L is no stranger to winning awards for his excellent talent, and it's delightful to add another one to the list!
If you need to re-familiarise yourself with Kay L, click here to read more about one of his latest singles!
Or if you wanna just jump straight into his music, we have you covered! Check out his popular songs on Spotify, with fantastic hits like La La Love and Nothing 2 U!



We'd like to wish Kay L a hearty congratulations and say with pride that we look forward to supporting his talented musical skills in the future! Let this occasion be testament to his passion and experience!
Kay L's Facebook can be found HERE: www.facebook.com/thekayl
Speaking of Facebook, check out this teaser from Kay L himself… a video accompaniment to Love From Me!
https://www.facebook.com/kaylmusic/videos/10161507364130473/