A vocal coach at one of the top studios in the country, the voice behind Key Loch's latest records, and a veteran of 30+ years in the live music scene… it's high time to get to know Sahra if you don't already! And the easiest introduction is just to listen to her incredible music. The aforementioned Key Loch combos are certainly a good start!
We've been raving about all of these recently in our news stories, and why wouldn't we? With over 3 million streams combined across Youtube, iTunes and Spotify and 800k on just Spotify alone, that level of growth is enough to turn anyone's heads when it concerns an indie artist like Sahra! But numbers aren't everything. When you get to know Sahra's story, her musical quality and persistence all start to make sense. From a small country town north of Sydney, Australia, Sahra was introduced to the world of entertainment at an early age. Even as a child, Sahra was convinced that performing would be her life. Since then she has journeyed far.
Singing alongside Australian acts such as Vanessa Amorossi and Richard Clapton, touring with bands throughout Australia, and performing both as a singer and actress on television, Sahra is no stranger to the entertainment industry. Sahra and Blue Pie Director, Damien Reilly, first met in 1996 and they have remained friends ever since. The duo began writing in 1997, and put together their first song "One Sweet Day" with Producer Phil Munro. Since that time, Sahra Damien and Phil all set out to write a solid body of songs. These would all aim to be timeless and true to Sahra's vocal ability. To see things come full circle for them once again like this (with Damien's work on these remixes as part of the Key Loch duo) is incredibly satisfying.
Adored by the incredible Chris Garcia and the eager participant in very fun mixing sessions with Tom Polce, Sahra is a delight to work with by all accounts. Produced by Gabe Rizza and Damien Reilly, Sahra has fully embraced her role within Key Loch collaborations, and has brought unmistakable passion to their most recent hits, and the public is taking notice.  She's also adept at sharing the stage, and has collaborated on some harmonious backing vocals with the one and only Avery May Parker! The original vocalist for Key Loch's smash hits Come Home To Me and their first ever single, Where Is The Love, it's great to see Avery back and singing her heart out once again with Sahra.
The chemistry between Avery and Sahra is insane, readily showing Sahra's experience across decades, and Avery's fresh and enthusiastic take on her skyrocketing musical career. When you meet in the middle with the passion of wanting to take your success by your own two hands and having experienced years and years of popularity, you can find beautiful music together. This is what collaboration is all about! And Key Loch is revelling in the positive result that has come from this.
But a performer isn't the only thing Sahra is. If you're a patron of The Groove Academy, you may already know her work as Sarah J. Hyland! There she works as a vocal coach and also readily demonstrates her awesome musical prowess. She's been described as possessing "Sultry stylings of Melody Gardot mixed with the jazz sensibilities of Norah Jones", and is said to be "Betty Boop meets Billie Holliday!" Quite an accolade.
Her bio on the Academy's site also notes several of her adventures at some prestigious venues: 'Notable appearances included packed-house performances at Greenwich Village's legendary The Bitter End, the Lower East Side's Rockwood Music Hall and Washington Square's Zinc Bar. At Nolita's Eight Mile Creek, she took advantage of a visit by award-winning Australian bass player and Thirsty Merc band member Phil Stack, who joined her on stage in a unique trio, which also included The Hipstones' singer-piano player Mark Palmer.'
'Melding traditional jazz influences with pop and blues, folk storytelling, jive and subtle R&B beats, Sarah J Hyland is bringing a new twist to jazz music with her release of "A Girl Like Me". The album recounts Sarah's exploration of relationships and the ups and downs that stem from each experience. The resulting songs take the listener on an emotional journey that ranges from despair to irony, frustration to self-effacing silliness.
"The album covers serious experiences, but does it in a very playful way musically," says Sarah. The Hunter Valley native launched her professional career in Sydney and then broadened her repertoire in New York. "It's serious fun because I wanted it to be musically light-hearted, even though some of the topics were quite painful for me at the time. The songs cover difficult topics that anyone can relate to, especially love and loss, but there's always humour that comes out of the carnage."'
The site also advises you get in contact with her if you want to see her perform or be coached. Quite a good idea! It seems The Groove Academy has plenty of such services to choose from, and their Additional Services page promises some rather fun ones! If you want the best of the best entertaining your venue, you know where to go, especially if Sahra is on roster!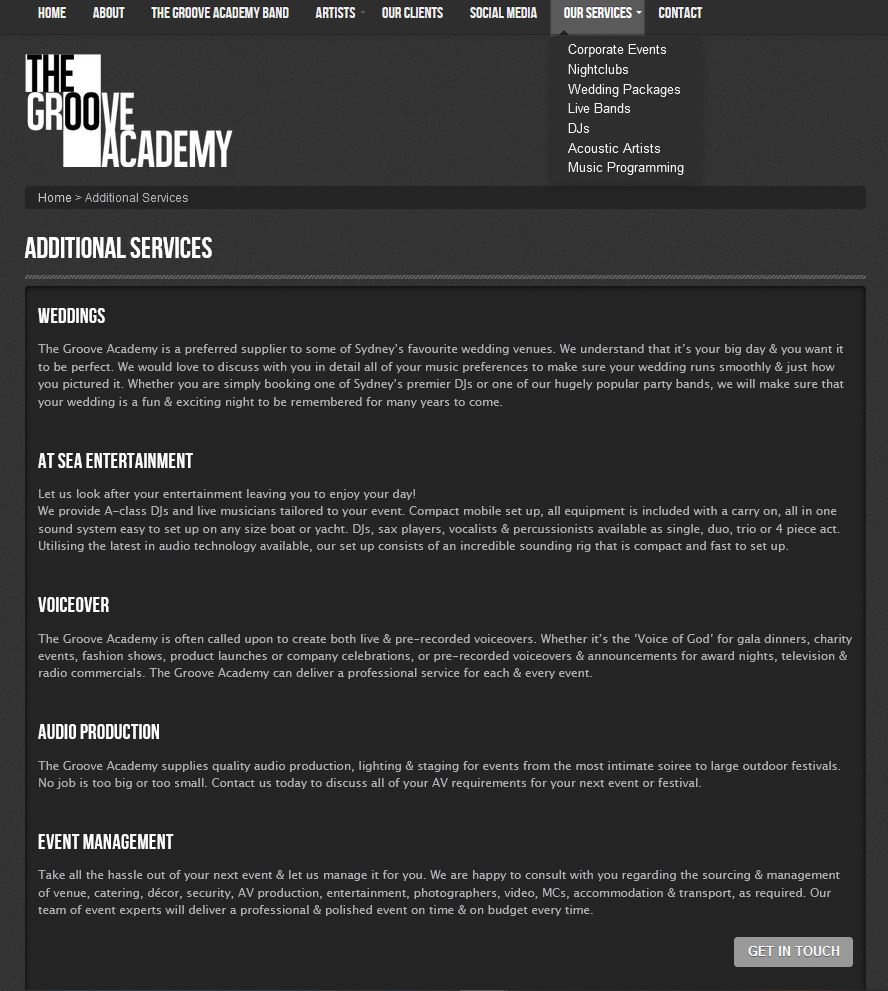 A Yoga instructor and lover of life, Sahra's passion is unbounded and that's plain to see from merely glancing at her creations. It's wonderful to see the colourful ideas on display in Sahra's work, and her performance is always the glue holding it all together – which explains why she's been a Blue Pie artist for many years before Key Loch ever formed!
Sahra's angelic voice, coupled with her ability to take you away to the true essence of the songs that she sings, makes her work very unique. She has that special magic that stars possess and she truly shines on her own. That's why it's so exciting that her music is going to get its time in the limelight like this! Let's all tune in and wish Sahra the best! And once she does, with tracks like Lightness Of Day playing, we'll have to be prepared to really feel something deep and emotional!
We hope that you enjoy your time listening to this incredible music. Sahra is available at all leading digital streaming services including Spotify, Amazon, iTunes, Beatport and Deezer. If you would like to know more about Sahra of if you would like to license any of Sahra's music then please email pr@bluepie.com.au.
Sahra is a DJ Central Records and Blue Pie Records USA artist. Sahra is published by Blue Pie Publishing USA (ASCAP) for the world.
Sahra links:
Key Loch links: