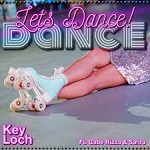 LET'S DANCE! Sahra and Key Loch rocking it yet again!
It wasn't long ago that we raved about the remixes of Sahra's Fall that Key Loch brought to our ears. Sahra's melancholy vocals adapt to the new treatments of the remix tracks, fitting like a glove to whatever energy the mixer chooses! The duo of Key Loch and their main mixing man Gabe Rizza went to town on this one.
But today we bring another special album from Sahra, Key Loch and Gabe. You guessed it – LET'S DANCE!
The TP Mix is what's on offer in this standout single, which is a remix of the classic track from Sahra's emotional debut album Girl Parts. This album has been the reason that Sahra has been an artist who's been on our radar for some years now. With the traction she's receiving on ipluggers, especially with her most popular hits, Boogie Ooggie Ooggie and Destiny Band, it's easy to see why she's so popular – and why Girl Parts summarises who she is to a T. It takes true passion and talent to express your soul through your music like this, and Girl Parts is a knockout example of just that.
So with a foundation that solid, the remix looks promising already – it has some powerful stuff to work with! So, how does it fare? Well…
The funky bongo beats of the original are accompanied by a secondary snare, elevating this hit into more of a club style track. The upbeat smooth piano and bass are still just as catchy as ever, and the overall package will give you a glimpse into what the 70s would be like if it had today's musical inclinations and standards! This is a refreshing new remix from Key Loch, and they've been knocking remixes and original works out of the park lately! Thanks to the collaboration between them, Sahra, and Gabe Rizza, we've got some real treats for our playlists from 2021! After the band started in late 2020, they made their way into our hearts with Where Is The Love, the band's debut track, and since then it's been up and up and up! We'll have to make devoted playlists for each of their years in the business with the rate this is going. 2021 is gonna be spicy for them, and 2022 is just around the corner – we're feeling optimistic!
But stellar remixes like these don't happen unless the foundation is rock solid, and thankfully Sahra's original piece definitely is! From a small country town north of Sydney, Australia, Sahra was introduced to the world of entertainment at an early age. Even as a child, Sahra was convinced that performing would be her life.
Since then she has journeyed far.
Singing alongside Australian acts such as Vanessa Amorossi and Richard Clapton, touring with bands throughout Australia, and performing both as a singer and actress on television, Sahra is no stranger to the entertainment industry. Sahra and Blue Pie Director, Damien Reilly, first met in 1996 and they have remained friends ever since. The duo began writing in 1997, and put together their first song " One Sweet Day " with Producer Phil Munro. Since that time, Sahra Damien and Phil all set out to write a solid body of songs. These would all aim to be timeless and true to Sahra's vocal ability. To see things come full circle for them once again like this (with Damien's work on these remixes as part of the Key Loch duo) is incredibly satisfying.
Sahra's angelic voice, coupled with her ability to take you away to the true essence of the songs that she sings, makes her work very unique. She has that special magic that stars possess and she truly shines on her own. That's why it's so exciting that her music is going to get its time in the limelight like this! Let's all tune in and wish Sahra the best!
We hope that you enjoy your time listening to this incredible music. Sahra is available at all leading digital streaming services including Spotify, Amazon, iTunes, Beatport and Deezer. If you would like to know more about Sahra of if you would like to license any of Sahra's music then please email pr@bluepie.com.au.
Sahra is a DJ Central Records and Blue Pie Records USA artist. Sahra is published by Blue Pie Publishing USA (ASCAP) for the world.
Gabe Rizza is a mixmaster for Key Loch and has spun his unique musical aesthetic with plenty of tracks, both original and remix! His magic touch is distinct, and his love of percussion and bass really shows in the work he does. You can hear his considerations for every little adjustment to his mixes when you listen to them, and that level of craftsmanship is definitely refreshing in a mainly automated industry!
Key Loch are Damien Reilly and Justin Gross. They are the founders of the 90's power Aussie Rock Band Southpaw www.southpawmuzik.com. They bring together a production history between them of 50 years of song writing and playing live music in Australia. The future is bright and Key Loch are wearing shades as they unlock the musical doors of your mind and fill it full of great music. This is the beginning of something amazing and the world can never have enough of GREAT music.
Sahra links:
Gabe Rizza links:
Key Loch links: