"As promised you you guys here is my new video to my new single called "MoonRocks" feat. Bigg Cixx & Young Quicks!!!
WARNING!!! ITS A SLAPPER!!!
SPECIAL THANKS TO EVERYONE WHO GOT BEHIND THIS TRACK!!
#GUAPCITYPRODUCTIONS FOR THE RAW VISUALS!!! 🙏🙏🙏
AND TO ALL OF YOU FOR 5 YEARS OF SUPPORT!!! PLEASE HIT THE LINK BELOW 👇
👇👇👇👇👇👇👇👇👇👇
https://youtu.be/RQ7jlnjowds
PLEASE SHARE!!! PLEASE LIKE!!! PLEASE LEAVE COMMENT 😎😎😎😎
AND SUBSCRIBE TO MY CHANNEL!!!!
#DLDOWN3R #MOONROCKS #HIPHOP
#WATCHUSMOKINON #DRZODIAK
#VILLIANLIFE #GUAPCITYPRODUCTIONS
#BIGGCIXX #PRODUCER #NATIVENATEDOGG
#YOUNGQUICKS #THISISLOSANGELES #ACTORMIKEFLORES"
These were the excited words brought to us by DL himself on his Facebook, when he first revealed to us that Moonrocks was finally ready to rock! We've been waiting in suspense!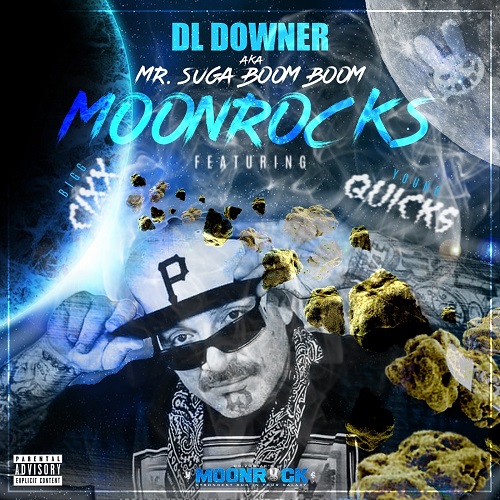 And of course, that video promo was something else! Damn sweet music video that holds no punches in terms of subject matter. And of course it has a great beat that'll have you nodding your head whether you like it or not!

And where there's a good music video, a good Spotify release will follow right after it!
Yeah, it's pretty plain and obvious to see, but we'll say it anyway. This new single is a blapper! We're sure that Down3r fans worldwide will appreciate the love, since they've been clamouring for a new single since No L's, the poor things! Well, you got it now. So settle in, kick back, and chill to the latest hip hop masterpiece from Mr. Suga Boom Boom, Young Quicks, Bigg Cixx, and the rest of the team who put this together. Sounds like a fun night!
Check out DL Down3r at the following official links:
And you gotta check out Suga Boom Boom while you're listening to this new release, chuck it in the playlist- can't complete the DL experience without it!