Serge Ermoll is a name anyone from the old school Aussie jazz scene would know. The last time we talked about him, we took a little trip down memory lane, looking back to the glory jazzy days when Serge blasted his jazzy skills on national television! Today, we have something that a lot of the world may not have seen… a local paper reporting on a collaboration that was supposed to happen towards the end of Serge's life, but sadly never came to pass. A collaboration with our very own Ray Vanderby, no less!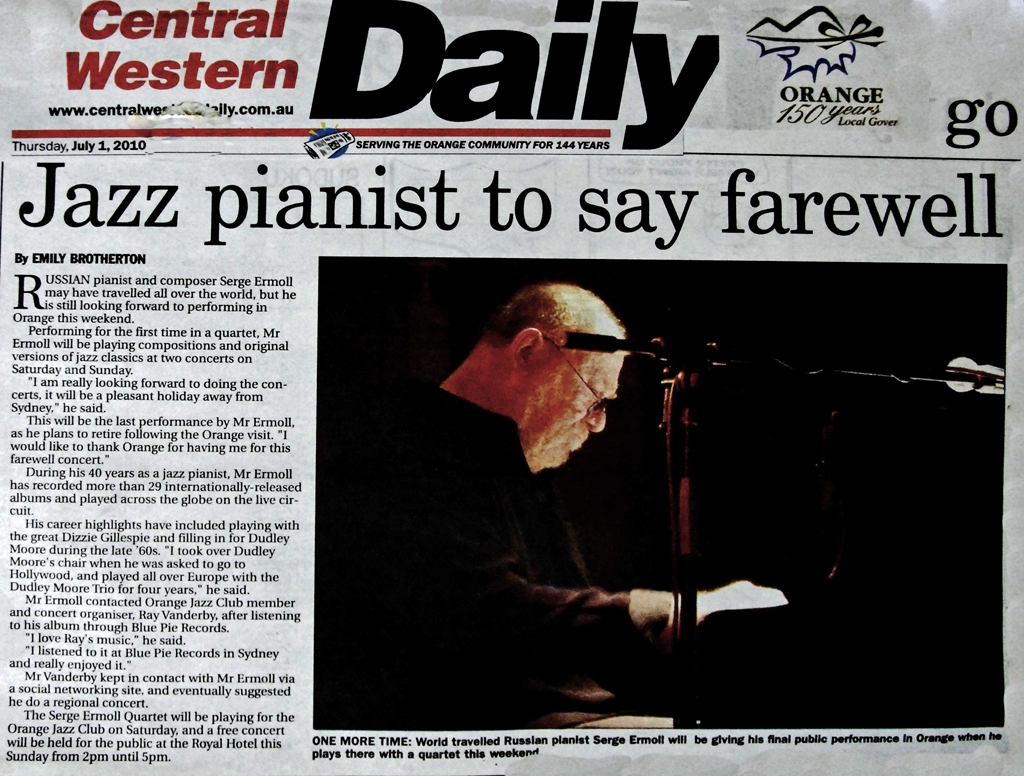 This would have been Serge's final show when Ray had the Orange Jazz Club going from 2008 – 2016. At the time, Serge was not well, but he had all intentions of performing as a special guest artist at the Jazz Club's event. Ray Vanderby's quartet was going to back him. Unfortunately, he was not well enough to travel from Sydney to Orange, and in the end he couldn't make it. Regardless, it's another important piece of his legacy, and shows that even as late as 2010, he was still kicking and attempting to play his heart out! If you knew Serge Ermoll and his penchant for determination, you'd know that this is to be expected for him.
For nearly forty years, jazz pianist Serge Ermoll had been renowned for his exceptional skills, constantly pushing boundaries, while defying the marketplaces demands to conform. His group, Free Kata, formed in the 1970s, and "…ripped open the heart of music aesthetics in Australia." (John Shand, Sydney Morning Herald, August 2003). Ermoll has played with some of the greats of the international jazz scene. During the recording of more than twenty-nine internationally released albums and playing on the live circuit across the globe, he has created moments with some of the greatest names in modern jazz. Indeed, as seen in a post on the Facebook memorial page for Serge, you can see just how many people "Dig This Man"! This LIVE performance on channel 9 put his memory firmly in the hearts and minds of people across Australia for decades to come!
This performance put him on the map, and you can see why he was nominated for an ARIA award! Especially when you hear the album that was nominated…
Serge is remembered for both his talent and his larger-than-life personality. Boasting a 5th Dan black belt in karate, and formerly having a day job as a private detective, Ermoll had always been a character, within and beyond his music. Be sure to remember this as we listen to his iconic music… and if you haven't heard of him before, then welcome! We hope you enjoyed meeting this incredible figure in Aussie musical history, and learning all about how he wowed the world even in his sunset years. Special thanks go to the Central Western Daily. Without this newspaper we couldn't have archived this inspirational musical story forever.
Check out more Serge Ermoll here!
Serge Ermoll is a Blue Pie Records USA artist. Serge is published by Blue Pie Publishing USA (ASCAP)