107.1's amazing Thursday evening show, 100% Home-Grown, is the one stop shop in the Southern Highlands if you're after Aussie Indie, and this is far from the first time we've talked about them! Highland FM has once again featured Blue Pie and DJ Central's MCs Pyrite and Mighty, now for the third time! Lea has done us a huge favour by allowing our hosts on the show, and this also looks like it won't be the last time, with two more Thursday nights planned! Featuring from 6PM til 7PM, Mighty and Pyrite jumped on over straight from their day's work, ready to once again hit the airwaves with all the Aussie indie and beyond that we could find in our catalogues! And just like always, they had a blast!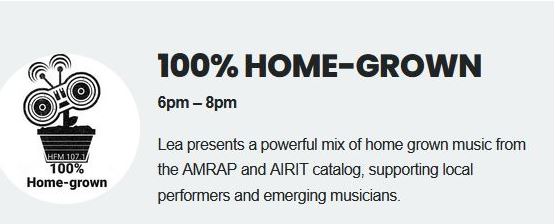 As ever, we at Blue Pie and DJ Central are very grateful for this opportunity! Lea has a keen eye for indie talent, and we did our best to support her excellent taste with some select picks from our catalogue, as well as other catalogues we support such as Sweet Peach Records. Overall the night went amazingly and the boys are looking forward to next week and beyond! Thanks Lea!
Here's a refresher of some of the artists that made it to air this particular week, in case you missed it!
Once again Key Loch's Where Is The Love was featured, and it's doing well… almost at 200K plays on Spotify at the time of writing, in fact! But more on that later. With samples from other albums and excellent tunes, the combination of Lea's catalogue and ours made for a stellar experience! We're very thankful we've been given this awesome opportunity to get these artists out there across the Southern Highlands.
This isn't just a one-time thing, either! There'll definitely be more to come on our OWN show eventually. We had an idea originally to have one show for Blue Pie and another for DJ Central, but we figure we'll just do the one show and flip flop between the two catalogues from week to week, which should be a breeze. Especially when you consider that the two catalogues often overlap! A big Blue Pie in the sky will be delivering slices to your speakers soon, along with some of the most essential DJ Central possible. Mighty and Pyrite are definitely excited to shoot the breeze and banter as they encounter every kind of music we have ready to roll! THESE TWO AREN'T DONE WITH RADIO YET BY A LONG SHOT!
If you want to see what else is on store at this excellent station, we have you covered – the schedule is easy to navigate! And if you need something else to scratch your itch after you're done with 100% home grown, well… stay tuned on the Blue Pie show. We'll keep you updated on the whens and wheres, we promise.
And of course, the website is here to fill you in on every detail you could ever want!
Remember, Southern Highlands – the radio hosts at 107.1 are all VOLUNTEERS, WORKING FOR THE LOVE OF MUSIC! Bump this station loud and support the magnificent work they do out of the passion in their hearts! That's why the radio waves in the Highland FM logo form a heart… because that's what everyone involved with these projects puts into them every single day!