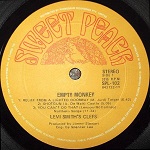 Sweet Peach's sweetest hits are now here in two tidy volumes!
Even though Sweet Peach wasn't around publishing hits for very long in the grand scheme of things, there's still so much to choose from when it comes to their catalogue! How do you make sure you haven't missed out on anything? When it comes to Sweet Peach, every track may be your new favourite song, given their quality… missing out would be such a shame!
That's why these very special compilations exist… Sweet Peach volumes 1 and 2.


Out now on Spotify and all other major online streaming services and retail platforms, these mega albums are the answer to your question – where is the COMPLETE Sweet Peach package? From Inkase to Irene Petrie to Doug Ashdown and even the legendary Lee Conway, this is an all-star roster of Sweet Peach's best and catchiest!
Click here for Volume 1 on Spotify!
And click here for Volume 2 on Spotify!
And of course, "major online platforms" includes Youtube… come have a taster with these playlists!
This is but a taste of the whole experience waiting for you within these compilations, and within Sweet Peach's entire catalogue. If you're still curious about the extent of Sweet Peach's impact on the music world, check out their discography and the full documentation of their story below which we used excerpts from! And of course, their shiny new website.
www.milesago.com/industry/sweet-peach.htm
www.discogs.com/label/226879-Sweet-Peach
The legacy of Jimmy Stewart and the rest of the crew from Sweet Peach is still alive and well, much to our delight. Sweet Peach Records are digitally distributed by Blue Pie Records for the world, and is protected/has its rights managed by Ordior. We are honoured to be responsible for the distribution of such a prestigious label and catalogue, and this teamwork is a testament of our appreciation for this little slice of Aussie musical history.
And if you ever wanted to investigate that slice any further, there's no better trivia to start with than the story of Jim Stewart…