Last time we checked in on Henry Turner Jr., we got the exciting news that Henry Turner Jr. day would be returning this November! The annual festival held in his name has always proven to be a wonderful jazzy time for all, as you might expect if you've checked out his catalogue before.
Sampling that playlist should give you an idea as to his musical prowess. And that's important context to know for today's news. Henry Turner Jr. was recently welcomed as a new member of the Recording Academy, part of the Grammy's! Check out this email to see the good word!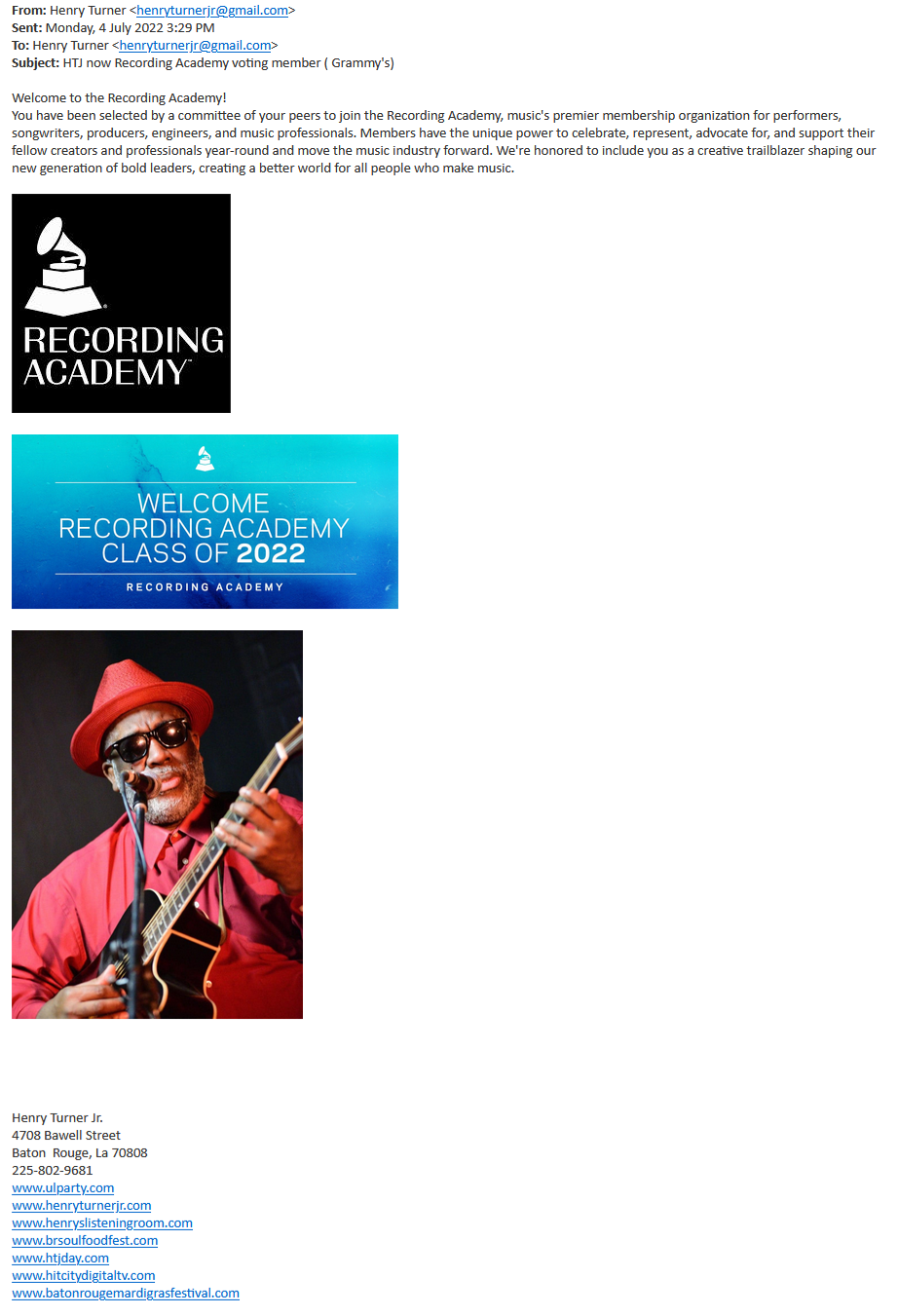 This is HUGE news for HTJ, as it means he will become an integral part of deciding who's gonna get handed out those prestigious trophies every year. This summary from the Recording Academy's website says it all:
"The process begins with members and record companies submitting entries, which are then screened for eligibility and category placement. The Academy's voting members, all involved in the creative and technical processes of recording, then participate in (1) the nominating process that determines the five finalists in each category; and (2) the final voting process which determines the GRAMMY winners."
If you wanna check out more about that and the Academy itself, click here: www.recordingacademy.com/awards/voting-process
Henry Turner Jr. has made great steps to improve his community and give where he can. He's even been awarded an honourary Louisiana ambassadorship in recognition of his efforts! Around his neck of the woods, he's a living legend, and with this new role he's been granted, the world at large may be considering him a legend soon too. Not only is he a musician but also a composer, producer and promoter. Henry has been accredited to creating a unique and contemporary music style labelled as a mixture of Louisiana Reggae, Soul, Funk and Blues. He possesses a rich baritone voice which produces a soulful and emotive tone to his ballads and catchy dance songs. Henry's ability to incorporate a mixture of blues, soul and funk in his guitar compositions has resulted in a series of unique, upbeat and unforgettable songs. But don't just take our word for it! It is said you can find Henry at the same place every Thursday night, in his listening room doing his thing. A man of the community, Henry brings something truly special to the scene both online and offline, and makes every Thursday night special for his pals! Check out this image to see more!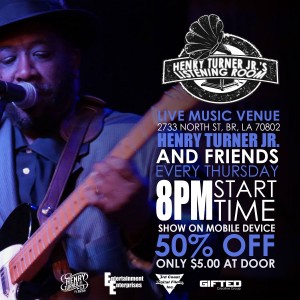 Yep, it's a sure thing that if you want some chill amazing music the likes of which can only be produced by Mr. Turner Jr himself, there's only one place to go, his listening room… but for those of you at home, we'll throw you a bone with a special video that gives you a taste of the magic.
But the weekly listening room shows are one thing, and helping to judge the Grammy's is quite another! This is a prestigious echelon for him to reach, and we couldn't be more proud of an artist that we work with to have accomplished such a feat. Congratulations to HTJ, and we'll look forward to hearing everything you have to say on the world's best music in the future!
Artist Links: