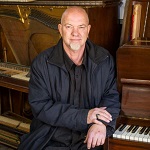 A funky new single and upcoming album from Ray Vanderby! Funky Space music!
We have a sneak video preview of a new master work from our very own Ray Vanderby! We've sung his praises plenty of times before, so this ought to be familiar and fulfilling territory for regular followers. Just the thing you need to kick off 2022 proper.
The preview in question is the single track Funky Space Music, which is slated to feature on Ray's upcoming album, Comet 2 Comet!
We have video previews for this track on both Youtube and Facebook. Currently it isn't on Spotify, but we can expect that release when the album proper drops.
Comet 2 Comet showcases yet another side of Ray's impressive ability to command music to any kind of aesthetic or style he wants. He has a wide range of talents, and his style is flexible, transitioning genre and aesthetic to best suit the mood of any given song, splicing jazzy tracks with piano classics and even Aboriginal folk music! Essential to modern music in Australian culture, Ray Vanderby is very respected around our neck of the woods. Known lately for his exploits with Corrugated Iron, Ray Vanderby may need no introduction to many of you: his collaborations with multiple prominent artists across an eclectic range of styles demonstrates his commitment to Australian music, as well as his unquestionable skill.
Funky Space Music is just another feather in his cap. This particular release stands out among Ray's entire catalogue, and it lives up well to the spacey nature of its namesake. The funk doesn't overpower Ray's skill with the piano, which shines through in the track's overall composition, which serves well this often celebrated talent of Ray's. When he tickles the ivories, he sets the bar, even in space! We can expect plenty of tracks in this style in the upcoming Comet 2 Comet, which we're all waiting for with bated breath. Don't worry… when it drops, we'll post about it here right away! Until then, why not browse Ray's extensive Spotify catalogue and get to know just how many different blends of sonorous bliss he has mastered!
Check out more about Ray Vanderby here!
SOCIAL MEDIA LINKS