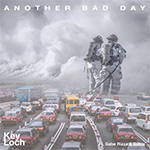 Another Bad Day? Let Key Loch set you right!
Out There was the last track we looked at featuring Key Loch and Sahra. It was a hit, and even in the early days of 2022, it's already gained over 10K plays on Spotify!
This time we'll look at their latest collaborative EP, Another Bad Day! This one brings back the duo of Key Loch, and their main mixing man Gabe Rizza went to town on this one with his GR mixes. Also returning is Tom Polce, who has contributed to a lot of Key Loch's recent hits, with his own unique brand of TP mix! Finally, two familiar vocalists return for this one. As we said, Sahra is back… but so is Avery May Parker! The original vocalist for Key Loch's smash hits Come Home To Me and their first ever single, Where Is The Love, it's great to see Avery back and singing her heart out once again.
If you're having yet another bad day, you can always count on Key Loch to keep the good times rolling with their releases. This is a bit melancholy as you might expect for a song with this title, but the energetic and upbeat synth contrasts with the gloomy lyrics. The harmony between Avery and Sahra is insane, readily showing the chemistry between Sahra's experience across decades, and Avery's fresh and enthusiastic take on her skyrocketing musical career. When you meet in the middle with the passion of wanting to take your success by your own two hands and having experienced years and years of popularity, you can find beautiful music in the middle. This is what collaboration is all about! And Key Loch is revelling in the positive result that has come from this. Another Bad Day is sure to provide good days for listeners many years ahead, and Sahra and Avery May Parker's heavenly vocals are instrumental in that.
But don't forget the exceedingly talented mixers! Gabe Rizza is a mixmaster for Key Loch and has spun his unique musical aesthetic with plenty of tracks, both original and remix! His magic touch is distinct, and his love of percussion and bass really shows in the work he does. You can hear his considerations for every little adjustment to his mixes when you listen to them, and that level of craftsmanship is definitely refreshing in a mainly automated industry! He and Tom Polce tweaked and tweaked and tweaked these mixes until they sounded perfect over several weeks, and the Folk Mix is an interesting take on the original that fits surprisingly well, given the distance between genres!
Key Loch are Damien Reilly and Justin Gross. They are the founders of the 90's power Aussie Rock Band Southpaw www.southpawmuzik.com. They bring together a production history between them of 50 years of song writing and playing live music in Australia. The future is bright and Key Loch are wearing shades as they unlock the musical doors of your mind and fill it full of awesome music. This is the beginning of something amazing and the world can never have enough of GREAT music.
Sahra is a DJ Central Records and Blue Pie Records USA artist. Sahra is published by Blue Pie Publishing USA (ASCAP) for the world.
Sahra links:
Gabe Rizza links:
Key Loch links: