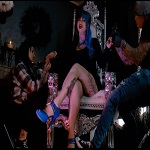 LadyDice's fast flow is INCREDIBLE! Check out "Think About It"!
Are you ready to have your mind blown by some of the fastest hip hop since Slim Shady himself? LadyDice is no stranger to the musical world or getting her array of talents out there, but we haven't seen anything quite like this before. Singing the chorus and backing vocals of Suga Boom Boom, in particular the acapella in the Gypsy Tattoo Parlour, LadyDice is well known to Blue Pie fans… but we're certain even veterans of her music will be blown away by this. Take a look, and think about it.

Here's a link to the same video on Facebook so you can go give her a like!
Amazing stuff, truly. Listen to that dynamic, epic flow… does she even take a breath?! We can be sure that this one is gonna blow up in popularity real fast. And the lyrics go real hard. This ain't one for the kids.
Need more? LadyDice has you covered!



And if you want to check out more on LadyDice and her contributions to Blue Pie, check out these links right here!
LadyDice Official Website: www.ladydiceent.com
LadyDice Official Facebook: www.facebook.com/LadyDice1790