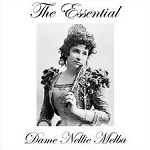 The Essential Dame Nellie Melba! The first Australian classic musician to be globally recognised!
Helen Porter Mitchell was born in 1861, and died as Dame Nellie Melba in 1931. In her 69 years of life, she became THE face of Australian singers worldwide, especially for the Victorian era. To this day, her face is on the Australian $100 bill, and her death was an internationally recognised event. But before that eventuality, she achieved lists upon lists of feats for the Australian music industry, and put us on the map. Having played all across the world, including before Kaiser Wilhelm II as well as many kings and queens, she is remembered even to this day for the impact she left on the world, as well as her perfect vocal control. Today, we are pleased to bring your attention to "The Essential", an album of her greatest performances, digitally restored for the modern era.

Part of the colossal Blue Pie Archive, this music has been lovingly restored so that age may not weary it, and that its audio quality can be updated so it's almost like it was recorded today. If you ever wanted to stroll down memory lane, you could click here, or simply get a taster by looking at the playlist itself.

The archive playlist has many more albums beyond this one, and we'll be eventually covering them all, beyond the ones we've done so far: we've been enjoying Stanley Black and Louis Armstrong lately, and now we can add the good Dame to our list.
To speak fully on Nellie Melba's achievements would require quite an extensive article, so to say the least, it's an honour that we are able to support her catalogue. It is an historic achievement that her work has been kept alive and recognised for this long, and even in another 89 years time, she will still be remembered. There's plenty of information on her out there online, and if you're really keen to explore her musical prowess, her bio ought to give you plenty of background. Until then, sit back and take in the performances of one of Australian's titanic operatic sopranos – the first classic musician to gain international recognition. An achievement that can NEVER be understated.