Down3r's got a surprise for you on the 9th of October! Budweiser nats: a show and a race!
15 Jun 2021
Down3r fans ought to be excited! Remember when Down3r tore up the track at the Bakersfield Speedway recently? He even gave us a direct shoutout!
Well this October, he's revving it up for round 2… and he's not alone! Check out the poster for the upcoming slamming 2021 event!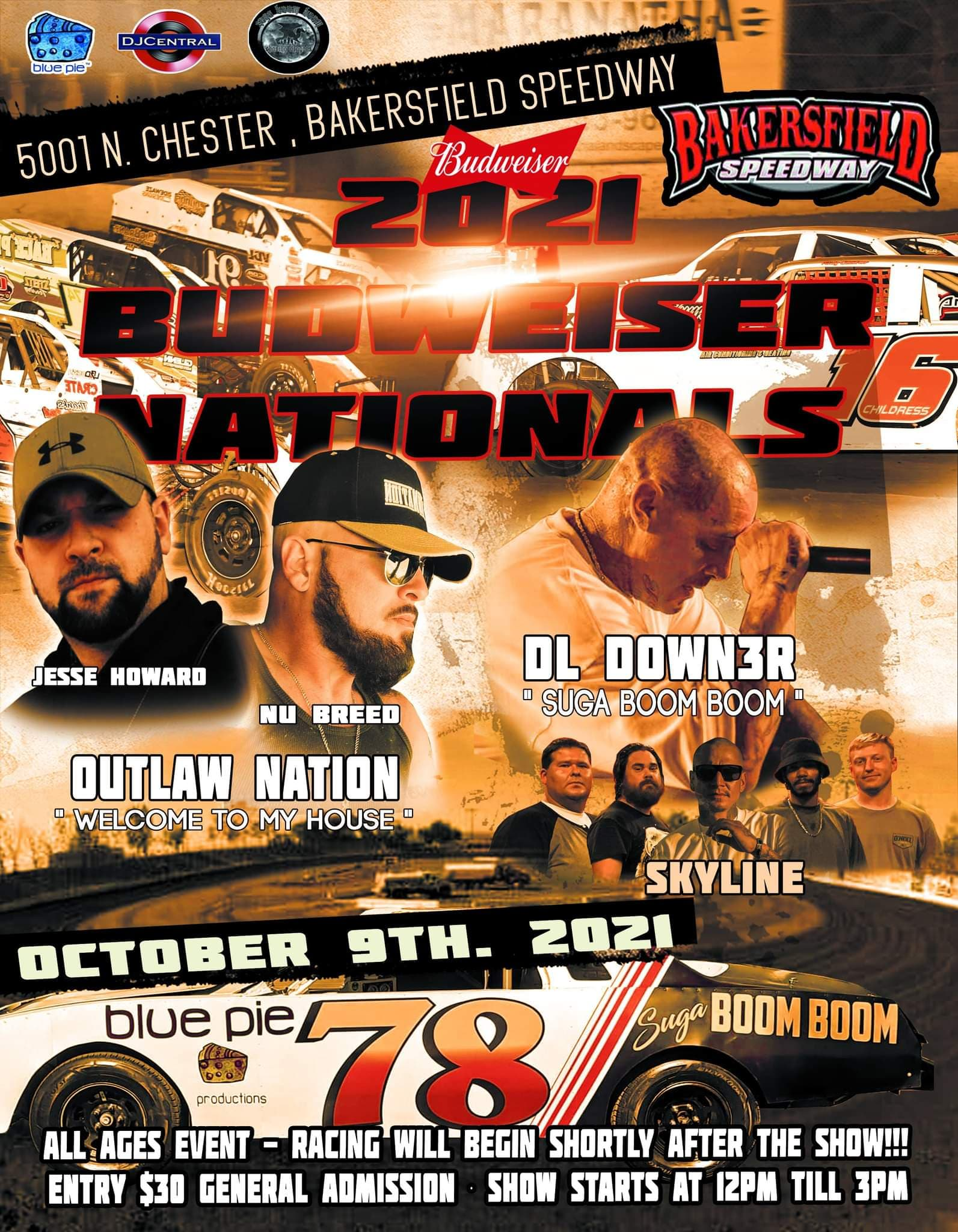 FINALLY there's another Down3r tour since 2020, in which there weren't enough! Compare how many we got in 2019 for instance. The virus ruins everything… 2020 was a hell of a drought, but now that things are getting a bit more on track, we're loving the prospect of October creeping up on us!
We got Skyline, Outlaw Nation, and of course Mr Suga Boom Boom all featuring, along with plenty of burning rubber and hype all around! This is no ordinary nats… this nationals comes packaged with a spicy Hip Hop show, featuring the best names from the industry's underground! Whether you know these trailblazers or are set up to discover some new artists from the ground up, or if you wanna just see some cars shred up the track, there's something for everyone here! And while you're discovering, we already know one conclusion you'll arrive at regarding Down3r in particular: he's a versatile artist, perfectly capable of both slappin' hip hop bangers, as well as introspective and emotional pieces from the heart. And he's somehow equally skilled at both! No jack of all trades being a master of none here! Down3r's got all of this on lock!
The event is set for October 9th, 2021, 5001 N. Chester, Bakersfield Speedway. It's for all ages, and general admission is $30. We're hyped to see Down3r in particular, (okay yeah we're a bit biased, what did you expect?) but the other acts featuring also have us intrigued! It'll be dope to see how their different styles complement each other. The show kicks off at 12PM and goes until 3PM, and once it's over, the racing will begin! Perhaps Mr Suga Boom Boom himself will get behind the wheel once more? Either way, see you there fam!
Through fierce and funky west coast rap, Down3r shares his prolific work with the rest of the world, and the stage with west coast rap legends such as Coolio, Brown Boy, Jay Tablet, Lil Young, Snoopyblue, LadyDice, Baby Bash, Steel City Hustlers, King Z and DJ Kane to name a few. From powerful messages, lyrical poetry and sharp comments on society, to G-funk and Trap/EDM hype songs, he proves that age and experience is the opposite of a liability in today's rap game.
With those as a taster, let this be an introduction to the rest of your hip hop life!
DL DOWN3R | OFFICIAL LINKS: