It's been a big week. Where Is The Love got a new music video and 200K plays, The Suga Boom Boom remixes got an extension and 300K plays, and disco proved itself to be very much not dead via Sahra's cover of Boogie Oogie Oogie! But on top of all that, 100% Home-Grown featured MCs Mighty and Pyrite once again, just as they have for three times in the past now! As ever, we at Blue Pie and DJ Central are very grateful for this opportunity!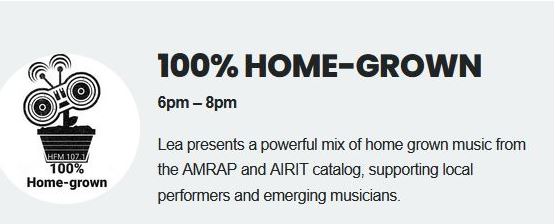 This amazing Thursday evening show from 107.1 is the one stop shop in the Southern Highlands if you're after Aussie Indie, and this is far from the first time we've talked about them! Every week for four weeks now, Lea has done us a huge favour by allowing our hosts on the show, and this also looks like it won't be the last time, with another Thursday night planned! Featuring from 6PM til 7PM, Mighty and Pyrite plunged right into the fun, ready to share all the indie they could possibly gather from their catalogue! As sponsors of the radio station, Blue Pie/DJ Central are happy to support the incredible work this station and show do, and we're honoured that we've been allowed to feature so many times now, with more to come! It's thanks to this kind of exposure that hits like "Where Is The Love" are seeing so much success across the world, and with new hits-in-the-making like the music video we teased on 100% Home-Grown last night, the sky is the limit!
With samples from other albums and excellent tunes, the combination of Lea's catalogue and ours made for a stellar experience! With the likes of the Dugites and the one and only Aussie legend Barry Crocker, we made sure to bring something for everyone! We're very thankful we've been given this awesome opportunity to get these artists out there across the Southern Highlands. Take a look at the sort of talent we showcased!
But Mighty and Pyrite aren't done with radio by a long shot. They're still learning the ropes, but be prepared for their own musical show to hit the 107.1 airwaves eventually! Stay tuned for more concrete announcements. And if you want to see what else is on store at this excellent radio station, we have you covered – the schedule is easy to navigate! And if you need something else to scratch your itch after you're done with 100% home grown, well… stay tuned on the Blue Pie show. We'll keep you updated on the whens and wheres, we promise.
And of course, the website is here to fill you in on every detail you could ever want!
Remember, Southern Highlands – the radio hosts at 107.1 are all VOLUNTEERS, WORKING FOR THE LOVE OF MUSIC! Bump this station loud and support the magnificent work they do out of the passion in their hearts! That's why the radio waves in the Highland FM logo form a heart… because that's what everyone involved with these projects puts into them every single day! We're proud to sponsor this excellent service, and we're honoured to have been featured so frequently before our own show has even been established. Speaking of which… watch this space, Southern Highlands. Watch this space…