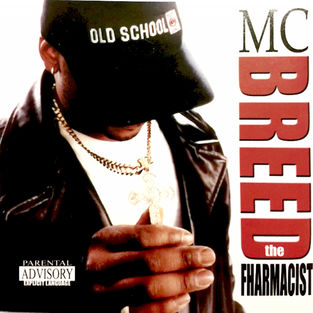 Christopher Light Records shines the light on MC Breed, with the re-issue of MC's cult hit album "The Fharmacist".
The one and only legend, MC Breed was born in Flint, Michigan and proudly the first commercially successful rapper to come out of the Midwest. Initially involved with the rap group DFC, Breed released his first album "MC Breed & DFC" for the independent record label, SDEG Records on August 13, 1991. The album had great success peaking at #142 on the Billboard 200, #38 on the Top R&B/Hip-Hop Albums and #3 on the Top Heatseekers.
"The Fharmacist" is the second to last album by MC Breed. It was released on May 8, 2001 for Fharmacy Recordings and featured production from MC Breed, Jazze Pha, The D.O.C., Dog, Corey Peterson and Gee Pierce. By the time this album was released, Breed's popularity had greatly decreased however the album was a critical success and spawned a number of tracks that have become underground classics in the North American Hip Hop scene.
The single "Let's Go To The Club" received massive airplay in his home town and the Detroit area, but nowhere near as popular in other key markets. It was his most successful single since 1991's "Ain't No Future in Yo Frontin'". On September 17, 2001, "Let's Go to the Club" broke the record for Detroit radio airplays and it is still in rotation to this day.
In late 2008 MC Breed was hospitalized and placed on life-support after he collapsed when his kidneys failed during a game of pickup basketball. On November 22nd, 2008, Breed reportedly died in his sleep while at a friend's home in Ypsilanti, Michigan.
This is the new revitalised and remasterred mix of the album out now on DJ Central Records and Christopher Light Records for the world.
Check out the links below and give it up for this classic album !
The Fharmacist:
CompCards: