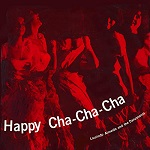 Get Happy and Cha-Cha-Cha with Laurindo Almeida And The Danzaneros!
One of Bossa Nova's pioneers along with Bud Shank, Laurindo Almeida is another classic musician, instrumental in the developments of the jazz, classic, and Latin music genres overall. Over five decades, the man recorded well over one hundred amazing performances, and was the first guitarist to receive a grammy award – twice – for classic and jazz performances! With experience like that, it's little wonder that we're so excited to be distributing Happy Cha-Cha-Cha on behalf of Capitol Records – the restoration team has done everything they can to ensure that this particular slice of the Blue Pie Archive gets all the love it deserves!

The album is a juicy treat for any fan of smooth, jazzy instrumental tracks. It features Laurindo Almeida and Allan Reuss on guitar, Don Fagerquist on trumpet, Alvin Stoller, Milt Holland, and Chico Guerrero on percussion, Joe Mondragon on bass, Dante Varela on piano, and Bill Miller as the producer with George Jerman as the album photographer.

Part of the colossal Blue Pie Archive, this music has been lovingly restored so that age may not weary it, and that its audio quality can be updated so it's almost like it was recorded today. If you ever wanted to stroll down memory lane, you could click here, or simply get a taster by looking at the playlist itself.

Every album within has been carefully restored to smooth out the audio quality and remove any distortions where possible. This album in particular is a jazzier cha cha album than most, as one might come to expect from these brilliant artists.
If you're up for a further stroll down memory lane or want to check out more about Laurindo Almeida and the Danzaneros, a trip to the relevant public bios may be in order, as well as their discography. But until next time, keep cha cha chaing it up, and we'll see you deeper in the historic archives!