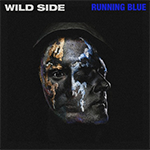 Keep walking on the Wild Side with Running Blue's new track!
The 80s synths kick off Wild Side and get you ready to start cruising along the highway or bouncing to the beat in the gym… this track is fresh, nostalgic, and brings back the synth rock of one of the best eras of musical history ready for the modern day! You have two mixes to choose from here, the standard radio mix and the TP & GR mix. Those initials may seem familiar to you: Tom Polce and Gabe Rizza ensured that their mix work would blow your socks off with this one. The lyrics cry out for freedom and letting yourself go wild, so they pair well with the 80s aesthetic. As ever, Running Blue's music is a throwback for the golden 80s oldies, forever young through their rebellious and catchy music! This track is a good look into the style and aesthetic of the band, one that any long-time fan would be all-too familiar with nowadays!
This is another in the series of Running Blue's new releases that we've been enjoying lately, defining a fresh era for the band. While they mainly focused on remasters between now and their classic heyday, they're moving past making their old songs sound crisper, into making whole new musical journeys. The confidence in this track is palpable, the many years in Running Blue's journey crystallising into this style which combines classic and modern, music from a walkman and music from a streaming service. It has something for everyone, whether you're an entrenched fan of this song style or are broadening your horizons with online music! Fans young and old are welcome here, and Running Blue is sure to have something for you in their catalogue, no matter who you are: such is the universal nature of this kind of heartachy, devil-may-care rock music. The steady vocals of Alan Kennedy tell a story of unbridled passion that perfectly fits the ethos of the 80s, and that kind of fire is what we need in today's society too: with that being said, we welcome it back with great enthusiasm. Rock on, Alan!
In 2021, we hinted that there are new songs in the works for Running Blue in 2022, aside from remasters. We promised that the music would be great, original, and have exceptional vocals from Mr Alan Kennedy and some cool synth pop from Michael O'Grady with Damien Reilly at the production helm. We're pretty sure that with fresh new releases of this quality, the band have delivered on our promise tenfold. Whether you knew the group by the names of either The Zilths or Running Blue, or whether you prefer the remasters of their old work or their new compositions, there's plenty of them to go around for whatever flavour you like best! Running Blue are BACK, they're here to stay, and we can't get enough of them.
You can check out all the news on Running Blue at www.runningblue.net
Running Blue are a Blue Pie Records USA and Blue Pie Publishing USA ( ASCAP ) artist.
TRIVIA:
The Band Members:
Venues and Gigs:
The band played throughout 1985 and 1986 at many venues across Sydney including:
The Student Prince Hotel
The Rose of Australia Hotel
The White Horse Hotel
The St John's Formal | Sydney University
The St Paul's Formal | Sydney University
The Annandale Hotel
Riverview School Reunion Formal | Balmain Town Hall
The Band Comp | The Round House | UNSW