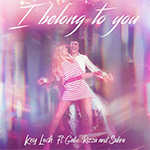 Key Loch belongs to you with this new heartfelt single!
Last time, we took a look at Another Bad Day, the latest release from Key Loch! It was an exciting new release, considering that not only did fan favourite Sahra return, but Avery May Parker also came back for vocals! The original vocalist for Key Loch's smash hits Come Home To Me and their first ever single, Where Is The Love, it's great to see Avery back and singing her heart out once again. This release is sure to be memorable in years to come: If you're having yet another bad day, you can always count on Key Loch to keep the good times rolling with their releases.
But the Key Loch release train isn't slowing down by any stretch of the imagination, and nor is Sahra! She's becoming quite ubiquitous in her work with Key Loch, and it's always good to hear more of her! This time, we're hearing an old school style head nodder that can be used to boogie on down, or slow dance the night away, whichever you love birds prefer! I Belong To You is a saxy sexy treat that caters to any kind of night out you can think of!
The duo of Key Loch and their main mixing man Gabe Rizza went to town on this one, and Sahra's vocals brought down the house. And of course, the rock solid foundation of Sahra's vocals brings it all together in a big way. We have two funky mixes here, the standard radio edit plus the old skool mix, in case you're feeling extra nostalgic while listening to an already nostalgic style track! The disco ring hasn't been this heated up since Sahra's other contribution with Key Loch, that of course being Let's Dance!
This boogie wonderland is far from the last thing Sahra and Key Loch have in store, however. We know of another track that we're going to cover very shortly, but even more collaborations are sure to happen with how successful they've been and how often they've been cranked out! Giving the people what they want, Sahra is living up to her dream and Key Loch is ready to fire all cannons in pursuit of even more awesome hits like these.
When you know Sahra's story, her musical quality and persistence all start to make sense. From a small country town north of Sydney, Australia, Sahra was introduced to the world of entertainment at an early age. Even as a child, Sahra was convinced that performing would be her life. Since then she has journeyed far.
Singing alongside Australian acts such as Vanessa Amorossi and Richard Clapton, touring with bands throughout Australia, and performing both as a singer and actress on television, Sahra is no stranger to the entertainment industry. Sahra and Blue Pie Director, Damien Reilly, first met in 1996 and they have remained friends ever since. The duo began writing in 1997, and put together their first song "One Sweet Day" with Producer Phil Munro. Since that time, Sahra Damien and Phil all set out to write a solid body of songs. These would all aim to be timeless and true to Sahra's vocal ability. To see things come full circle for them once again like this (with Damien's work on these remixes as part of the Key Loch duo) is incredibly satisfying. As we said, fire all cannons! Let's go Key Loch!
Sahra's angelic voice, coupled with her ability to take you away to the true essence of the songs that she sings, makes her work very unique. She has that special magic that stars possess and she truly shines on her own. That's why it's so exciting that her music is going to get its time in the limelight like this! Let's all tune in and wish Sahra the best!
We hope that you enjoy your time listening to this incredible music. Sahra is available at all leading digital streaming services including Spotify, Amazon, iTunes, Beatport and Deezer. If you would like to know more about Sahra of if you would like to license any of Sahra's music then please email pr@bluepie.com.au.
Sahra is a DJ Central Records and Blue Pie Records USA artist. Sahra is published by Blue Pie Publishing USA (ASCAP) for the world.
Gabe Rizza is a mixmaster for Key Loch and has spun his unique musical aesthetic with plenty of tracks, both original and remix! His magic touch is distinct, and his love of percussion and bass really shows in the work he does. You can hear his considerations for every little adjustment to his mixes when you listen to them, especially in these three new mixes of varying tone and feeling, and that level of craftsmanship is definitely refreshing in a mainly automated industry!
Key Loch are Damien Reilly and Justin Gross. They are the founders of the 90's power Aussie Rock Band Southpaw www.southpawmuzik.com. They bring together a production history between them of 50 years of song writing and playing live music in Australia. The future is bright and Key Loch are wearing shades as they unlock the musical doors of your mind and fill it full of awesome music. This is the beginning of something amazing and the world can never have enough of GREAT music.
Sahra links:
Gabe Rizza links:
Key Loch links: