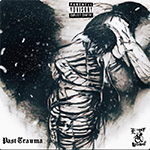 Lokust isn't done yet! Past Trauma, his new evocative single!
Fans of Lokust Luciano may know his successful two part album, The Sideshows Manuscript. These are compilations that showcase the best that the Kingpin has to offer! There's some good news on the way for people who enjoyed those albums… The Sideshows Manuscript: The Lost Pages is OUT NOW!
But we're gonna cover that in-depth soon. For now, here's a track from the album that was released as a single. It's the crown jewel, the song that encompasses the album as a whole, so the next logical step is to elevate the track to where it deserves to be! That track is Past Trauma.
This is a mellow head-nodder with a serious message, much like the recently released Coping Mechanism. "My biggest enemy would truly be my mind", Lokust chooses to let the listener in to the pain that his past relationships have left him to deal with. Domestic violence and abuse is a hot topic right now, especially with the Depp v Heard case recently coming to a close, so Lokust Luciano opening up about the events that gave him this trauma is a refreshing continuation of this honesty. These lyrics cut deep and make you think hard about the loved ones in your life, and whether you're experiencing the affection you deserve. Lokust survived his ordeal because he knew he deserved better, but he carried his past traumas with him. Sometimes, you can't forget when something has happened to you, but you can just accept that it has and move on. That's what Lokust has done in this song, and although it still hurts, he's living his best life now, which is what counts for the most. Respect to Mr. Luciano and his fire new single!
Lokust Luciano was born William Arciszewski on June 21st, 1988 as a premature baby, and diagnosed with Cerebral Palsy. He grew up in North Fort Myers and began writing poetry at the tender age of 9 years old. He is the first rapper with Cerebral Palsy, and has been active in multiple facets of the Hip-Hop scene since 1998. He moved to Florida for leg surgery when he was very young, as the medical world at the time (1988) didn't have a solid understanding of Cerebral Palsy yet, so he had to seek out an expert specialist. Orlando was the only place he could go for it, and he came out on the other side grinning. He is well known in the underground music scene for his production talent and lyrical delivery. He is also sometimes known by the handle "Crippled Kingpin".
The adversities he has overcome are now a part of his personal aesthetic, showing his strength and sturdy sense of humour. His creative drive is unstoppable, and we're sure you'll agree when you see some of the hits from his catalogue that have been turning heads his way! We'll see you there, and until next time, do what we're planning to do… keep your ear to the ground for some spicy new releases from the Kingpin himself! Next time, we'll be going into the album that Past Trauma came from, we can't wait for more tracks of this quality!
For more info, check out Lokust's bio here!