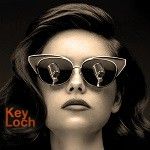 More Key Loch remixes from Gabe Rizza! Nothing can slow him down!
In our last visit to Key Loch's catalogue, we celebrated their recent 300K streams milestone and enjoyed Gabe Rizza's work on some of Key Loch's newest stuff! This included the iconic Ajax Spray n Wipe jingle featuring Maurice Morgan, a staple from the childhoods of anyone who heard this during ad breaks! It's a real earworm, that's for sure.
And you also may have heard of Country Boy AKA CB's Fantasy, remixed lovingly and showing us the true versatility of what both CB and Key Loch can do – from CB's experience with metal music collaborating with Heaven to his work on the classic Fantasy, versatility is clearly CB's game, and that makes it all the better when it's introduced to a remix like Gabe's. After all, who heard of a stiff, immovable object of a song melding well with a remix? The fluid nature of the source material definitely pops off in a big way here.
But today we want to bring something new to the table! Check out the spicy remix of B-Bless' incredible passion piece with Missy Crissy, Passenger!
You want chill, New York hip hop aesthetic? You want smooth flow, unseen since the golden days of Biggie? You want sexy chill citypop for the modern era? All this and more is found in "Passenger", one of the most popular singles that B-Bless and Missy Crissy ever produced! And with Gabe's magic touch, Key Loch has brought it to a whole new kind of life that really helps it soar. While we're waiting on the music video for Come Home To Me, these new productions will help keep us satiated and we're fully on-board with it! We can't get enough of them.
Key Loch are Damien Reilly and Justin Gross. They are the founders of the 90's power Aussie Rock Band Southpaw www.southpawmuzik.com. They bring together a production history between them of 50 years of song writing and playing live music in Australia. Key Loch's expert playing guarantees that every time you listen to "Frozen", it'll hit you right where it counts. The future is bright and Key Loch are wearing shades as they unlock the musical doors of your mind and fill it full of great music. This is the beginning of something amazing and the world can never have enough of GREAT music. These Spotify figures are just one of many testaments to that! And of course, Gabe's awesome work can't be understated – it's thanks to his fresh injection of new life that all of us at Blue Pie and DJ Central will be sorted on our dance playlists for weeks now! Keep em coming, guys!
Key Loch are a Blue Pie Records USA artist published by Blue Pie Publishing USA (ASCAP) for the world. For more information on Key Loch you can visit their website at www.keyloch.com or check out where it all began for Damien and Justin at Southpaw | www.southpawmuzik.com