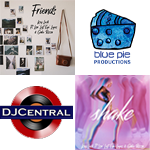 Presenting two new Key Loch hits featuring the one and only LISA "LEFT EYE" LOPES!
Are you ready for some Tender Love and Care, some good old TLC? Key Loch have you covered with their two latest releases. Both Shake and Friends feature the legendary Lisa "Left Eye" Lopes, and the talent of the 4 time Grammy winner is really shining through, even posthumously!
The cheerful flow and funky bounce of 90s pop will have you shakin' that ass to the beat! And the added Funk Version for Shake by Key Loch's main mixing man Gabe Rizza has brought a whole new spin to the track, making it a difficult decision whether the original or the Funk mix is preferred! No matter what you prefer, it's good beats all around. And as for Friends, this will have you nodding your head more than dancing like crazy, busting a move with style and rhythm rather than getting spellbound in a frenzy. Both kinds of parties are our kinds of parties, no matter what the spice is! And that's just what you'd expect from musical visionaries like TLC.
If you were living under a rock back in their heyday, TLC were America's hottest girl group back in the 90s. Lisa Lopes was one of the trio that put them on the map. Unfortunately she passed away in 2002, but her music still lives on to this day, as you can clearly see! We owe a special debt of thanks to our wonderful artist Suzanna Lubrano for helping us get our hands on the rights for this! After all, she and Lopes collaborated in the past, and it shows with how dazzling their styles can be!
But how did Suzanna do it? Via her label, TransCity Netherlands. We've talked about them before, and their head honcho René Romer is absolutely the man for helping us get this underway! The TransCity catalogue is truly a treasure trove of terrific tunes, and that's evident even from a moment of browsing. For more info on Mr Romer and TransCity, check out his links below!
These remasters are truly a kickass edition to both Key Loch and Lisa Lopes' overall arsenals. The remastered versions that Key Loch put out truly pop, and if you're familiar with their work, it'll all make sense why, once you learn Gabe Rizza was behind the mixing. Gabe Rizza is a mixmaster for Key Loch and has spun his unique musical aesthetic with plenty of tracks, both original and remix! His magic touch is distinct, and his love of percussion and bass really shows in the work he does. You can hear his considerations for every little adjustment to his mixes when you listen to them, and that level of craftsmanship is definitely refreshing in a mainly automated industry!
When you get special musical powerhouses like these versions of Friends and Shake, if you follow the trail of production you'll see why they sound so good. With talented mixers and musicians like Key Loch making banger after banger, followed by Lubrano and Romer organising and collaborating to make everything run smoothly, then at the very top we have an icon like Lisa Lopes of TLC. It's a mountain of talent, and the result is that these tracks will be stuck in our heads for even more years to come, far beyond the 90s golden age! Thanks TLC for leaving us something to blossom from – your music will never ever die, it's pretty clear to see!
Key Loch are Damien Reilly and Justin Gross. They are the founders of the 90s power Aussie Rock Band Southpaw www.southpawmuzik.com. They bring together a production history between them of 50 years of song writing and playing live music in Australia. The future is bright and Key Loch are wearing shades as they unlock the musical doors of your mind and fill it full of great music. This is the beginning of something amazing and the world can never have enough of GREAT music.
Gabe Rizza links:
Key Loch links:
TransCity contact details – René Romer: