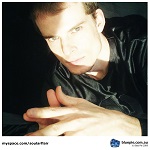 The madlad has been busy! Soularflair's new albums!
Recently, we've been singing Soularflair's praises for the incredible work he's done on the music videos for Sam Pollard's "World Of Difference", as well as more recently, Southpaw's "Head In A Box" and "Coast To Coast". Even before that, he was ripping it up with his incredible work on Burning The Day's "1601" and Danny Vash's "Hard Life"!

Southpaw – Coast To Coast from Planet Blue Pictures USA on Vimeo.
It's indisputible that Soularflair is a magnificent video editor. But that's not the only talent under his belt, certainly not. Soularflair also has a claim to fame in music – one which we sung the praises of long before any of the above videos released! So let's get nostalgic and see what killer tunes he's been making, shall we? He's been a busy man, creating and creating – that's how you know the mark of a true artist, nothing can stop them from building their craft, whether it be in one area or multiple!
Soularflair's last album in 2019 was in May, "Watching The World Burn"… and funnily enough, in just a month's time, this would prove very prophetic, as it was June 2019 that saw the first uncontrolled bushfires of the infamous 2019-2020 Australian bushfire season! Just a month after it had been released and it was more relevant than ever…
But after that, Soularflair threw us some hot new hits to end 2019 and start 2020 – the new decade – off right!
As you can see, Soularflair has been mainly working with Singles, with the odd album and EP here and there. His latest track, the Shatter Your Illusion remix of "Gold Dust Woman", is one of his crowning achievements in his creations, and it really goes to show that as he works more and more, his craft improves by the day! And there's even more than just these on his Spotify, and his Youtube – featuring entire albums such as the beloved "Stuck In The Q" series, and guitar covers with the man himself!


No matter what you want out of music or videos, Soularflair is here to deliver, and has been for a very long time now! It's great to see his skill hasn't waned in his years of practicing, as evidenced with these recent releases. It's always great to see he's dropped a new track, so we thought we'd give you a little reminder on some of his recent bangers, in case you missed them! Have fun, now, kids.
SOULARFLAIR OFFICIAL LINKS: