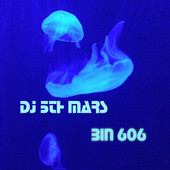 Third new album from DJ 5th Mars - 'Bin 606'
'Bin 606' is the exciting third album from Canadian born DJ 5th Mars and was released September 2013 worldwide. After the great success of 'Bin 505' his previous album, this entrancing new third album is destined for worldwide recognition.
A representative for DJ 5th Mars said: "The release of Bin 505 was a big success last year and DJ 5th Mars hopes to replicate that success with the release of the up and coming Bin 606. He has enjoyed success as a DJ, producer and musician, and these combined talents are reflected in the unique sounds that he has created on the new album."
An exciting new addition to the genre of deepspace techno, this album showcases the exceptional creativity and technical skills of DJ 5th Mars both as a composer and producer.
Purchase-Link