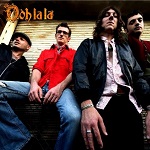 When you hear these remasters, "You Gotta Move" to Oohlala's hits!
Not long ago, we were looking at a digital remaster of Oohlala's More Peace & Harmony. And now, we're coming to you with the sequel story! More Peace & Harmony is a remaster of one of Oohlala's best albums, and one of the tracks featured would later go on to become a single, You Gotta Move. Of course, this track was digitally restored too in More Peace & Harmony, lovingly brought up to the advanced audio standards of the modern era. We teased in that prior article that there's more Oohlala remasters coming, so here you go – a brand new shiny digital release of YOU GOTTA MOVE! But not only that, it's a remix! If you wanted just the original track with sweet new audio quality, then More Peace & Harmony is for you, but this new release is a little different than just that! This time it features the one and only Key Loch, alongside their usual mix magician, Gabe Rizza! The brand new TP Mix is sure to blow longtime fans of Oohlala away with its fresh new take on the classic.
The added drums and strums really help elevate this track into the 2020s. It still keeps its identity as a contemporary Aus Rock classic, but this is a glorious comeback that will have you nodding your head! You'll get the most out of this track if you've been rocking with Oohlala since their heyday, but new thrashheads are welcome at the table too! This is a standout rock song, with the low pass filter turned up and the drums coming through strong. This track wants nothing more than to blow you out of your seat – and as it says, You Gotta Move!
But to fully understand this mix and just how it flourishes in the wake of its predecessor, a bit of context on the original helps. Back in September 2007, Australian community radio got a taste of something magical. Throughout the country, Oohlala's smash hit "You've Gotta Move" was added to playlists and online circles, and was blasted loud and proud! No neighbours complained either, and the "Ooh army" went nuts spreading this across the web. More and more support flowed in each day for what the Australian media called "the blackest white soul rock" that we have ever heard! "You've Gotta Move" was an icon, and it held in the minds of the public well throughout the year, and 2008 too!
In October 2007, Ooh La La was selected by Gambit for an Australia wide promotion on the Nokia mobile Platform! Tracks selected were "Chop the Mutha down" and of course, "You've Gotta Move". It made for a real summery sound, and it confirmed to the world that turning "Gotta Move" into a single instead of letting it be just a track among many from Oohlala's hit album "Peace and Harmony" was an excellent idea. The debut album was recorded in late 2007 and released in 2008. The leading single, which was of course, "You Gotta Move", was selected by Sydney's home of rock, Triple M 104.9! It was one of five tracks to be considered in securing a support slot for Bon Jovi, over two nights at the Acer Arena, Mon 21st and Tue 22nd Jan 2008. The listeners and the station itself overwhelmingly decided in favour of Oohlala, who won a whole new legion of fans as a result of their arena performances. The shows were so well received that the band were invited back to Triple M to perform acoustic tracks every week on their daily morning program Shebang!
In 2008, things just kept looking up, as the track featured on Channel 31's ScoutTV! Live at the Cat & Fiddle in Balmain on the 18th of February, the live music scene of Sydney got a real treat as the music video was filmed in public over some drinks. The live show was what Oohlala was all about, and radio stations tried to capture the energy of the performance eagerly throughout the height of their popularity.
And finally, in 2021, the legends at Key Loch gave this track a whole new lease on life, the TP remix acting as the wind beneath Oohlala's wings and paying tribute to a band they truly love from back in the not so distant past. Onya, gents!
Oohlala unfortunately called it a day back in 2012, but with new digital remasters of all their most popular tracks on the horizon, this cult hit is gonna hit you where it counts, in the 2020s and beyond!
Check out the Oohlala website at www.oohlala.net.au, and download the track at iTunes and other major music retailers like it. Or of course, there's all the major streaming services too! Either method is fine for getting a juicy taste of the brand new remaster, as well as the original version.
Never mind the ongoing debates about digital piracy and the future of music, the four lads of Oohlala intend to fully uphold the true virtues of rock'n'roll… fun, loose and loud and a sound sympathetic to all beating hearts and dreaming minds. There's plenty of it, across both of their Spotify profiles, as well as across all other major online streaming services and retailers. And with this excellent remaster in our arsenal, along with more remasters to come, there's only one thing left to say: Let there be rock.
Oohlala are a Blue Pie Records USA artist and published by Blue Pie Publishing USA (ASCAP)
OFFICIAL LINKS:

Key Loch are Damien Reilly and Justin Gross. They are the founders of the 90's power Aussie Rock Band Southpaw www.southpawmuzik.com. They bring together a production history between them of 50 years of song writing and playing live music in Australia, and Gabe Rizza also has an equally impressive amount of experience with music mixing and management, and has proven time and again that he is an asset to the duo.. The future is bright and Key Loch are wearing shades as they unlock the musical doors of your mind and fill it full of great music. This is the beginning of something amazing and the world can never have enough of GREAT music.
Key Loch links: