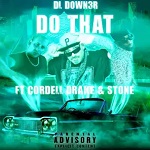 You wanna hear the new DL Down3r single? Well go DO THAT!
If you've been following the DL Down3r Official Fanpage we manage on Facebook, you might remember when DL Down3r shouted out Jack Parry and vice versa for their excellent collaboration on the Jack Parry Suga Boom Boom remix! And if you need a refresher, here's both the shoutout vid AND some excellent dance footage our team whipped up to accompany Jack's remix.
Something you may have noticed in the shoutouts vid (aside from Blue Pie getting some exciting props!) is that the lads were filming on what looked like the set for a new music video. Well, presenting to you now, a vid and track produced by Bigg Cixx beats… we'd like to introduce "DO THAT"!
The last time we saw DL Down3r was with his animated music video for his recent single by the name of Clown. It was refreshing to see one of our favourite artists in cartoon form, but even so, it's still nice to see DL back in the flesh. The track is live as a music video now on Youtube, as well as on Spotify and all other major online retailers and streaming services.
Featuring Cordell Drake and Stone P, this new track is a classic G Funk deal. We love it whenever Down3r experiments with this style, his flow and voice really suit it! And of course his crew and their hard hitting musical attitude are a huge part of this track's lifeblood. You might remember another collaboration like this that DL did in the past that turned a few heads, his featuring on "Alright" by Solja Sick. Or perhaps a collab with DL at the helm, along with the aforementioned Bigg Cixx, that being the iconic "No L's"! No matter which you remember, it's undeniable that this funky sound is exactly what the world needs more of.
This is yet another awesome track in this line of works that really shows off DL's amazing range, talent and ability to style on haters. He and his crew bump along with the filthy bassline of this track, their lyrical spice weaving into the melody in the best way possible. It's a real standout track among DL's library, and his new posse is making a name for themselves with all the energy of a billion firecrackers. We can't wait to see how well this new G Funk slapper will travel, and what amazing new collabs between this trio will come up with next!
Through fierce and funky west coast rap, Down3r shares his prolific work with the rest of the world, and the stage with west coast rap legends such as Coolio, Brown Boy, Jay Tablet, Lil Young, Snoopyblue, LadyDice, Baby Bash, Steel City Hustlers, King Z and DJ Kane to name a few. Best add Cordell Drake and Stone P to that list too!
From powerful messages, lyrical poetry and sharp comments on society, to G-funk and Trap/EDM hype songs, he proves that age and experience is the opposite of a liability in today's rap game. Blast it loud, get ready to feel something, and rest assured knowing that hip hop never died!
DL DOWN3R | OFFICIAL LINKS: