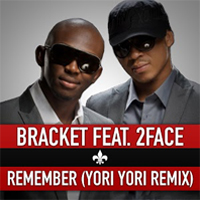 You'll 'Remember' 2Baba after listening to this party anthem!!!
'Remember' (Yori Yori Remix)' ft. 'Bracket' is the latest track to emerge from the highly talented Nigerian artist '2Baba', formally known as '2Face'. The track produces a catchy pop rhythm while still incorporating RnB influences similar to RnB artists like 'Sean Kingston' and 'Iyaz' making it the perfect party song.
2Baba has been on the music scene for over 20 years, originally being a member of the RnB group the 'Plantashun Boiz' before beginning his solo career where he has collaborated with numerous iconic artists including 'R. Kelly', 'Jay-Z' and 'Prince Lee'.
'Remember (Yori Yori Remix)' represents the sheer talent of 2Baba, in collaboration with the iconic Afropop artist 'Bracket' this song is a clear indication of the musical capabilities both artists possess.
This is the next universal club banger
Artists Links: