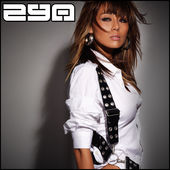 DJ Central is proud to announce the release of Chinese/Canadian singer Zya's latest EP! Zya has an impressive portfolio that we are keen to share with our amazing viewers! Zya is already a huge name in the Chinese and Canadian music industries and she has the YouTube hits to prove it.
Don't believe us? Check out "Baidu" (China's equivalent to YouTube) where her songs and video clips have received over a BILLION plays!
DJ Central is releasing 4 selected tracks from her albums on a special "ZYA" EP. The release will be promoted via the SONY and The Orchard on DJ Central Records. The tracks include 'Baby Tell Me', 'Enchanted', 'Love and Peace' and 'I Do Not Like Love'.
Her strong emotive vocals are complimented by excellent production and are a must hear for anyone interested in well produced music that is inspired by contemporary R&B.Zya's vocal talents also caught the attention of the Vocal Teacher, Julie, who fostered the World Renowned Talent Celine Dion. For information on Zya and DJ Central follow the links!
Zya Official Website: www.hellozya.com
Purchase-Link