Dave Evans in California! Hell Metal Kings concert set for ROCKTOBER 22!
08 Oct 2021
If you've been following our news lately, you might remember when recently Dave Evans AND Joe Wyman of The Scorpions lit up Mexico, and when Dave tore up America earlier this year! Well, we have good news if you're itching for more… Dave Evans will return to the USA on October 22nd later this year, to rock the Hell Metal Kings Concert being held in Huntington Park, California!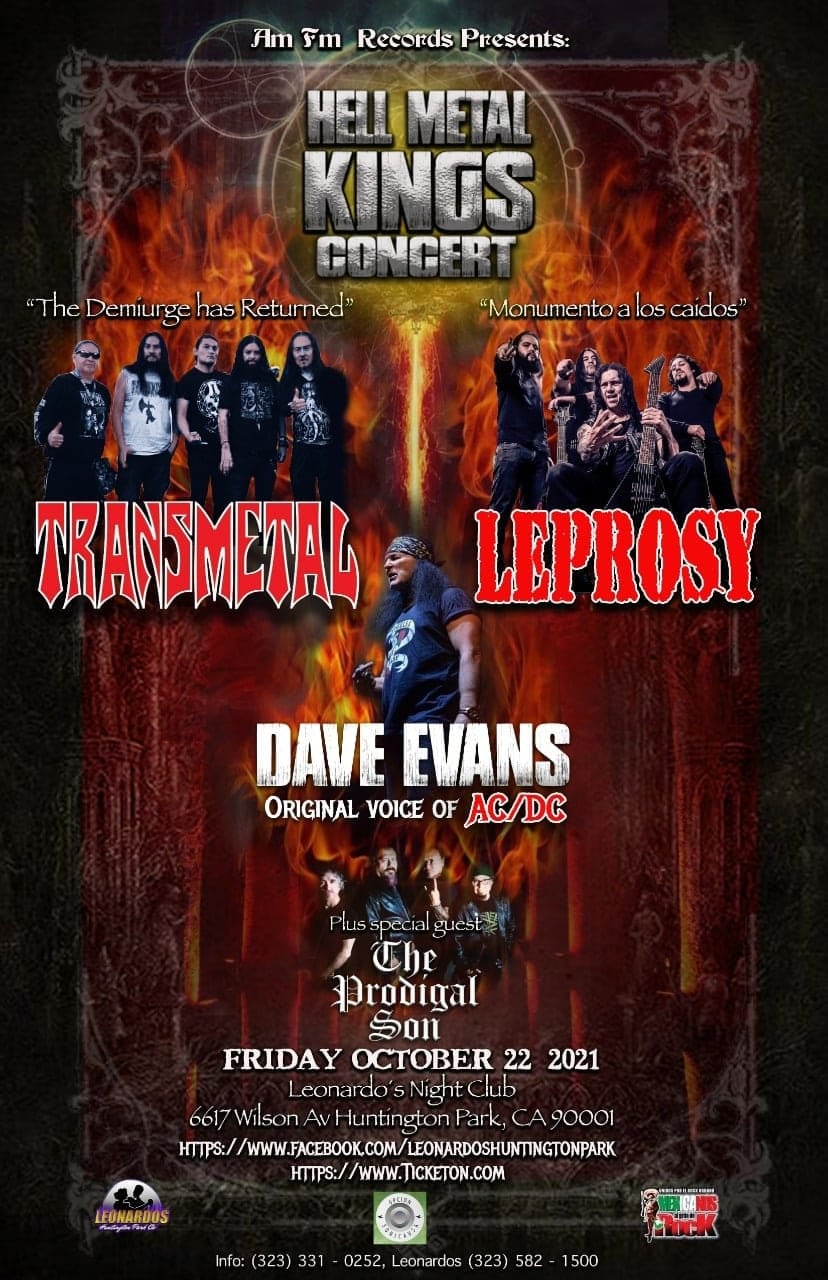 As you can see from the flyer above and on Dave Evans' Facebook, Dave will be featuring alongside Transmetal, Leprosy, and The Prodigal Son. On Friday the 22nd, this very month, Leonardo's Night Club will be rocked to the very foundations. Once again, that address is 6617 Wilson Av Huntington Park, CA 90001! You can call for more info at (323) 331 – 0252, or call Leonardos at (323) 582 – 1500. Am Fm Records have put on a sweet show, and if you can't wait to reserve your place in the stands, check out the links below right away!
We have a few days left to wait before this badass event fires off, so be sure to indulge in Dave's excellent catalogue online to pass the time! And speaking of which, there's another work from Dave that we're waiting on the edge of our seat for, a brand new album. Currently still in the works, it's looking pretty exciting, especially with its title! "BADASS GREATEST HITS"!
The teaser Dave provided on the album makes it look quite promising indeed!
Can you hold your excitement? Well, if not, we have just the thing for you – a means by which to secure your ticket into ROCK paradise! Even if you can't make the show in Cali, you can play this record loud from the comfort of your home and have a Dave Evans concert on your own damn terms!
Just click here to pre-order your copy of BADASS GREATEST HITS via Melodic Rock Records!
As hype as this album and the Hell Metal Kings concert are set to be, how will they compare to our personal favourite work of Dave's, that being Sinner? We'll just have to eagerly wait and see… Maybe the Sinner shirt in our wardrobe will have even more company soon!
We hope that if you didn't know Dave Evans and his rockin' legacy before, this will help you get in touch with your long wild hair and 80s attitude once again – some merch could help with that! Or maybe you can even turn up to one of the tours if you happen to be in that neck of the woods right now! Otherwise, look for Dave Evans at all great music stores across the world. For more information on Dave Evans you can visit his official links below. Dave Evans is a Blue Pie Records USA artist and is published for selected titles by Blue Pie Publishing USA (ASCAP)
Dave Evans: