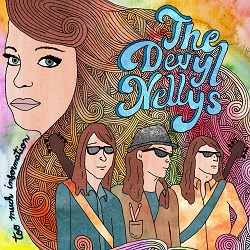 The historic and iconic Café Wha welcomes The Devyl Nellys!!
21 Jan 2015
Following in the footsteps of Jimi Hendrix, Bruce Springsteen, Dave Matthews and Jack White, The Devyl Nellys will be performing at the Café Wha on the 22nd of January, at 7:30pm.
Their debut LP "Too Much Information" dropped April 2014 on Mondo Tunes / Universal Music and has landed these bohemian funk rockers on the radars of the alternative rock scene, identifying dark, low points in modern living and loving, while offering rhythms, rhymes and laughs to help us all cope through it.
For more information about the band check out their website and Facebook page, and check out the venue at115 Macdougal Street, New York, NY 10012, United States, or check out the website at