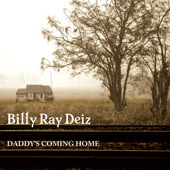 Billy Ray Deiz Releases The First Single From The New Album
'Daddy's Comin' Home' is a masterpiece of country rock and gospel!
The first single from Billy Ray Deiz's new album is just as amazing as everyone was expecting. This American radio personality is finally stepping out on his own, with 'The Nashville Tracks', a 10-song collection that features some of the best musicians in the world playing Billy Ray's original compositions ranging from Soul-satisfying R&B to Country, Blues and Rock 'n Roll!
You'll hear The Billy Ray Big Band, on his classic, "Rather Have Sooner", with a James Brown groove and a "can't sit still" feel; on "Daddy's Comin' Home" he is a true "Blues Brother", and wait until you catch the stellar guitar lead by George Marinelli, Bonnie Raitt's guitar player.   It's as if the entire Bonnie Raitt band were backing Billy Ray in a live performance.  You can thank producer Cliff Goldmacher for assembling some of Nashville's greatest players for these soul-stirring sessions.
You can buy the single from Amazon or click the link below for iTunes!
Purchase-Link