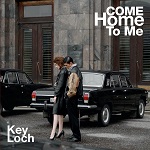 Gabe Rizza returns to remix Key Loch! Come Home To Me!
Recently, Gabe Rizza brought a personal touch to Frozen, the Key Loch cover of the old school Madonna classic. Three spicy new flavours came into the mix and showed us the musical range that Gabe is capable of.
And before that, Passenger by B-Bless and Fantasy by CB got the same kind of treatment!
And now, we're pleased to announce the triumphant return of these Key Loch remixes, this time not with a cover or the song of another artist, but of an original Key Loch work! Remember the melancholy pining that was found in Key Loch's "Come Home To Me"? That's the next cat off the rank today! Check out these sweet remixes that Gabe has brought to us!
These mixes incorporate the original track into the playlist and album so you have a benchmark you can compare it to, and boy can you ever see a difference between them! The melancholy yet upbeat smooth tones of the original are now starker, lonelier, backed by heavy synths. This is a huge contrast to the original's identity, considering it was a bit more of an old-timey tale about a husband going off to war and his wife waiting anxiously for his return. Now, there's three new flavours of this futuristic interpretation of the song – let your mind wander, is it a space or cyber war that the husband has left for this time?
The Cyberpunk mix brings a kind of drum and bass touch to it, kicking up the tempo into high gear. The Desolation mix features a heavier snare and will make you nod your head harder to the thicker beats. And the Isolation mix compounds the sadness of the song by dialing back the percussion presence, letting a loneliness echo throughout the track. This one is bound to make you feel things… and it definitely is a fresh new spin on Come Home To Me that you can't get anywhere else! We're glad that Gabe is hammering away and bringing his unique sound to these releases, because it takes them in a direction altogether his own, and one that we're always glad to explore.
Key Loch are Damien Reilly and Justin Gross. They are the founders of the 90's power Aussie Rock Band Southpaw www.southpawmuzik.com. They bring together a production history between them of 50 years of song writing and playing live music in Australia. Key Loch's expert playing guarantees that every time you listen to the emotional "Come Home To Me", it'll hit you right where it counts. The future is bright and Key Loch are wearing shades as they unlock the musical doors of your mind and fill it full of great music. This is the beginning of something amazing and the world can never have enough of GREAT music. And of course, Gabe's awesome work can't be understated – it's thanks to his fresh injection of new life that all of us at Blue Pie and DJ Central will be sorted on our dance playlists for weeks now! Keep em coming, guys!