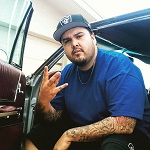 Heaven On Earth... possible thanks to Bigg Cixx!
Bigg Cixx, Young Lama, and Spezloaks… sounds like a match made in heaven. And it just might be, since they've brought Heaven On Earth to us! Bigg Cixx and his crew are showing off how quick they can spit their rhymes in a pretty big way, and it's great to see the gang flexing like this in such an awesome new release. Heaven On Earth (H.O.E.) is the latest single from the crew and it's seriously one of their best. H.O.E.'s mad? You'd be mad not to check these awesome bars out!
This is like an older school 2000s rap. The low piano riffs and the beat that makes you wanna nod your head pair perfectly with the awesome diction in every single second of the vocals. How much practice went into the flow of this song?! It's the work of a pro!
We shouldn't underestimate or expect anything less of Bigg Cixx or his crew though. As usual it's the perfect kinda song to cruise around and nod your head to, a staple of excellent hip hop! And given the repertoire that Bigg Cixx and crew have behind them, particularly with Spez Loaks and Bigg Cixx's work on No L's with Down3r, we can rest assured this was always bound to be an awesome hit nobody can afford to miss, huh?
Bigg Cixx is a Blue Pie Records USA artist and is published by Blue Pie Publishing USA for the world. You can check out more information and the latest news on Bigg Cixx at the following links:
www.facebook.com/BiggCixxBeats
www.youtube.com/channel/UCjQNbHF6jRIE0Vu3-P1dgeA
Check out some of these great hits now on YouTube: