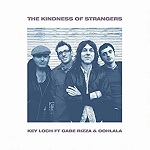 Oohlala and Key Loch team up once again with remasters! The Kindness Of Strangers!
The one and only Key Loch have been remixing like crazy lately, alongside their usual mix magician, Gabe Rizza! They've been giving fresh new takes on classic hits from many talented artists, but a certain band in particular has been catching our attention… that being Oohlala. When this classic Sydney band and Key Loch are combined, the sky is the limit, as you'll see with Key Loch's most recent release, the remaster of Oohlala's The Kindness Of Strangers!
With a title lovingly borrowed from Tennessee Williams' classic A Streetcar Named Desire, you can hear some of the melancholy of the original work in this track. Except perhaps we would hope that Oohlala doesn't receive the malevolent "kindness" from DuBois' tragedy! This track was originally from Peace And Harmony, and was remastered via More Peace & Harmony.
The twangy backing melody and thrumming strings march along with the beat, like a tired endurance run. Fitting, as Oohlala describe how they're "holding out" to be "shown the way back home". It's a sad song but not without a twinge of plucky bravery and determination in the face of daunting odds. It's the kind of melancholy that may even prove to be uplifting if you're in a similar circumstance! Maybe the kind strangers in your life that will help you back home are Oohlala and their inspirational work? Either way, the sound is crisper than ever and Key Loch/Gabe have done an absolutely incredible job in restoring it and bringing it to life! Just check out the original and compare the two!
Key Loch's remaster could have been played yesterday and you'd never know, the quality is pristine. Sadly, that is not the case. Oohlala unfortunately called it a day back in 2012, but with new digital remasters of all their most popular tracks on the horizon, this cult hit is gonna hit you where it counts, in the 2020s and beyond! The kindness of Key Loch restoring the work of another band that they love has allowed whole new digital audiences to enjoy Oohlala all over again… the way back home isn't so far away for Oohlala after all.
Check out the Oohlala website at www.oohlala.net.au, and download the track at iTunes and other major music retailers like it. Or of course, there's all the major streaming services too! Either method is fine for getting a juicy taste of the brand new remaster, as well as the original version. Never mind the ongoing debates about digital piracy and the future of music, the four lads of Oohlala intend to fully uphold the true virtues of rock'n'roll… fun, loose and loud and a sound sympathetic to all beating hearts and dreaming minds. There's plenty of it, across both of their Spotify profiles, as well as across all other major online streaming services and retailers. And with this excellent remaster in our arsenal, along with more remasters to come, there's only one thing left to say: Let there be rock.
Oohlala are a Blue Pie Records USA artist and published by Blue Pie Publishing USA (ASCAP)
OFFICIAL LINKS:

Key Loch are Damien Reilly and Justin Gross. They are the founders of the 90's power Aussie Rock Band Southpaw www.southpawmuzik.com. They bring together a production history between them of 50 years of song writing and playing live music in Australia, and Gabe Rizza also has an equally impressive amount of experience with music mixing and management, and has proven time and again that he is an asset to the duo.. The future is bright and Key Loch are wearing shades as they unlock the musical doors of your mind and fill it full of awesome music. This is the beginning of something amazing and the world can never have enough of GREAT music.
Key Loch links: