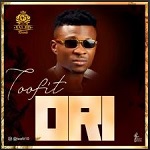 Ori by Toofit might just be the newest chill hit out there!
The tropical-styled synths in Ori will make you kick back and relax, as well as nod your head to the bouncing beat! It takes talent to try and strike that kind of balance, and Toofit has that downpat.


The latest chill groove out of Real Touch records truly shows off the talent coming out of Africa nowadays, and is sure to captivate both a local and global partygoing audience. This one is perfect for chilling out with a cold drink by the bar or the pool and just taking in the atmosphere of the party, or working your conversational magic on other partygoers! But make no mistake, it's the exact kind of track you can dance to if you wanna- the swaying, popping rhythm will get you in the mood for whatever kind of recreation you need!
At the moment the track is a sleeper hit on Spotify and hasn't had the chance to spread its wings yet, but give it time and Toofit's Spotify is bound to blow up with attention, and new fans wanting even more quality chill bangers.