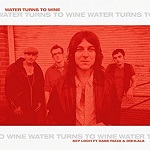 Water Turns To Wine with Key Loch's magic touch! Oohlala!
Recently we covered some standout Key Loch remixes, lovingly crafted alongside their usual mix magician, Gabe Rizza! Last time, we looked at their remaster of The Kindness Of Strangers by the one and only Sydney band Oohlala.  Now, we've got another Oohlala hit that will have you walking on water and celebrating with loaves and fish. That of course is Water Turns To Wine!
Just like The Kindness Of Strangers, this track was originally from Peace And Harmony, and was remastered via More Peace & Harmony.
Both of the tracks were solid enough to go on to be singles, and you can truly hear that level of quality when they've been remastered! Water Turns To Wine's particular feel is energetic and will get your hands clapping along with the bridge. The electric organ will throw you back in time to sunnier days, and the exciting tempo of the song will have you moshing before you even realise it! To whoever ordered the Australian answer to Lynyrd Skynyrd, we thank you. By the end of this, you'll believe in miracles too!
The remastered sound of this single is crisper than ever, and Key Loch/Gabe have done an absolutely incredible job in restoring it and bringing it to life! Just check out the original and compare the two!
Key Loch's remaster could have been played yesterday and you'd never know, the quality is pristine. Sadly, that is not the case. Oohlala unfortunately called it a day back in 2012, but with new digital remasters of all their most popular tracks on the horizon, this cult hit is gonna hit you where it counts, in the 2020s and beyond! The kindness of Key Loch restoring the work of another band that they love has allowed whole new digital audiences to enjoy Oohlala all over again… the way back home isn't so far away for Oohlala after all.
Check out the Oohlala website at www.oohlala.net.au, and download the track at iTunes and other major music retailers like it. Or of course, there's all the major streaming services too! Either method is fine for getting a juicy taste of the brand new remaster, as well as the original version. Never mind the ongoing debates about digital piracy and the future of music, the four lads of Oohlala intend to fully uphold the true virtues of rock'n'roll… fun, loose and loud and a sound sympathetic to all beating hearts and dreaming minds. There's plenty of it, across both of their Spotify profiles, as well as across all other major online streaming services and retailers. And with this excellent remaster in our arsenal, along with more remasters to come, there's only one thing left to say: Let there be rock.
Oohlala are a Blue Pie Records USA artist and published by Blue Pie Publishing USA (ASCAP)
OFFICIAL LINKS:

Key Loch are Damien Reilly and Justin Gross. They are the founders of the 90's power Aussie Rock Band Southpaw www.southpawmuzik.com. They bring together a production history between them of 50 years of song writing and playing live music in Australia, and Gabe Rizza also has an equally impressive amount of experience with music mixing and management, and has proven time and again that he is an asset to the duo.. The future is bright and Key Loch are wearing shades as they unlock the musical doors of your mind and fill it full of awesome music. This is the beginning of something amazing and the world can never have enough of GREAT music.
Key Loch links: