May 20th is gonna be Suga Boom Booming for Arizona!
13 May 2022
We teased this before, and now it's time to get hyped up! The Suga Boom Boom crew are moving into Arizona in just around a week's time, are you ready for them?!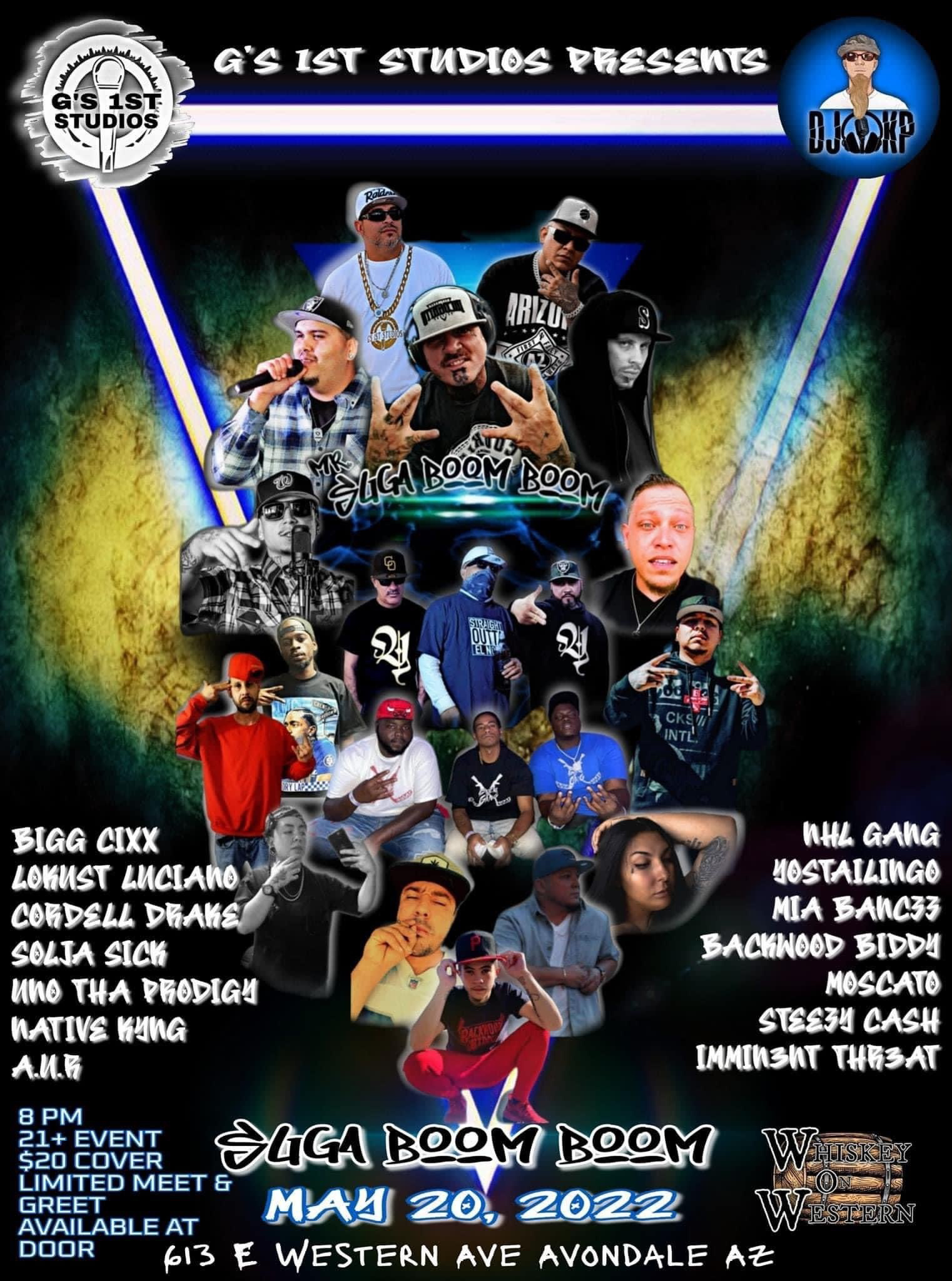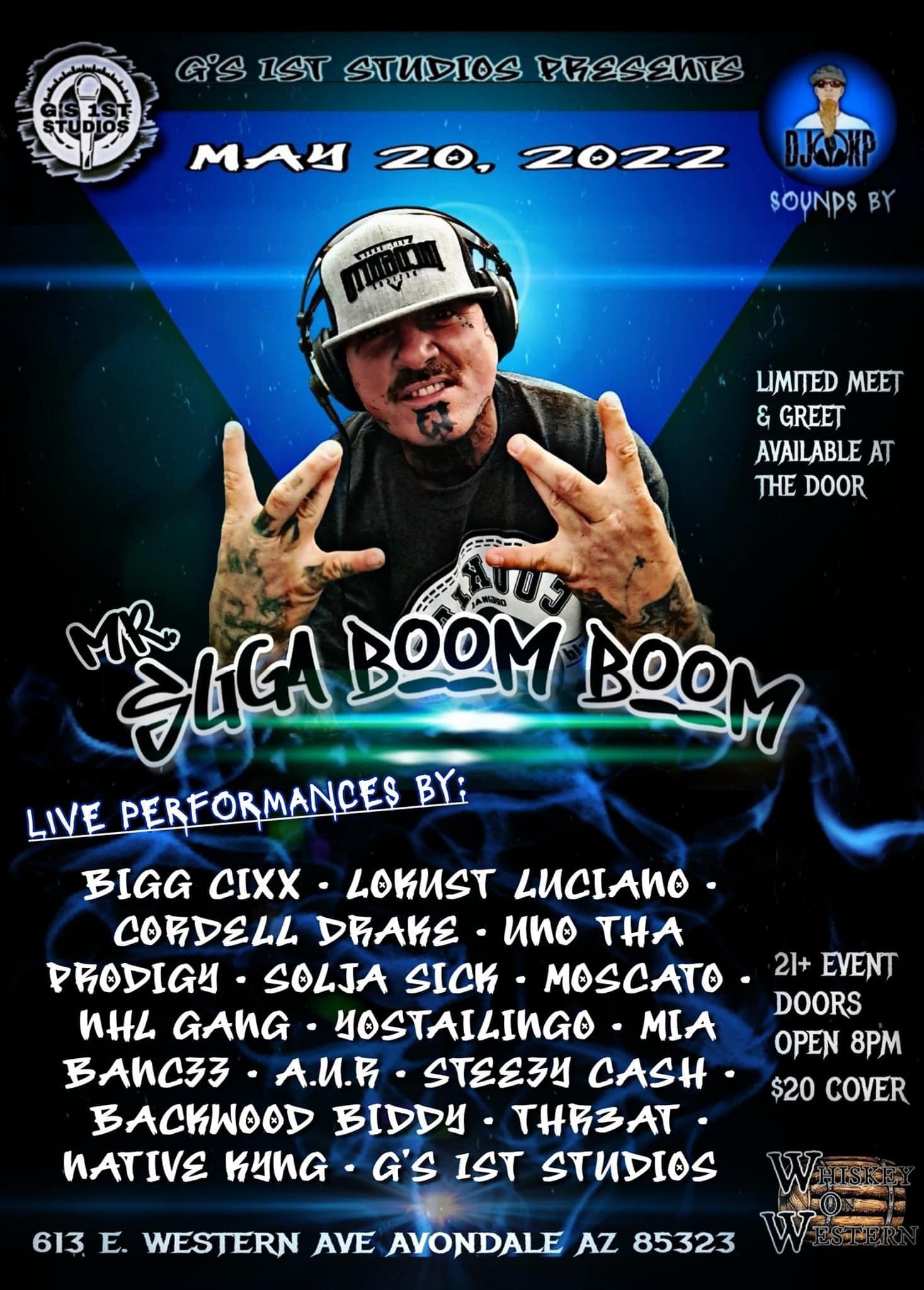 The crew are certainly ready! Check out this excitement from social media!


Yep, DL Down3r and Lokust Luciano are raring to go, but they're not alone! Joining them are Bigg Cixx, Cordell Drake, Uno Tha Prodigy, Solja Sick, Moscato, NHL Gang, Yostailingo, Mia Banc33, A.N.R., Stee3y Cash, Backwood Biddy, Immin3nt Thr3at, Native Kyng, and G's 1st Studios! That's an all-star roster if we've ever seen one, and no matter your preferences for hip hop, there's sure to be someone you like here.
This is an event for all fans over 21, and kicks off from 8 PM. It's $20 cover and there'll be a limited meet and greet at the door so be sure to get in quick! G's 1st Studios has done a hell of a job putting all this together, and Avondale are sure to be in for the night of their lives. DL is ready to rock ever since his appearance at May 7th's Latin Bash, and seeing him on stage with all of his crew is gonna be a sight to remember for the rest of our lives! Will we see you there?!
We've talked a big game about a few of these artists in particular in the past, and a refresher course might be just the thing you need if you're indecisive about buying tickets for this once-in-a-lifetime event. Down3r and Uno Tha Prodigy have rocked many awesome and emotional singles together before, and the recent UNDEFEATED with Cordell Drake is absolutely killer. Bigg Cixx and DL showed the world that they take No L's, Solja Sick impressed us with his awesome "Alright" that made New Years 2019 a blast, and of course Lokust Luciano has been turning heads his way with his latest releases.
Lokust Luciano was born William Arciszewski on June 21st, 1988 as a premature baby, and diagnosed with Cerebral Palsy. He grew up in North Fort Myers and began writing poetry at the tender age of 9 years old. He is the first rapper with Cerebral Palsy, and has been active in multiple facets of the Hip-Hop scene since 1998. He moved to Florida for leg surgery when he was very young, as the medical world at the time (1988) didn't have a solid understanding of Cerebral Palsy yet, so he had to seek out an expert specialist. Orlando was the only place he could go for it, and he came out on the other side grinning. He is well known in the underground music scene for his production talent and lyrical delivery. He is also sometimes known by the handle "Crippled Kingpin".
The adversities he has overcome are now a part of his personal aesthetic, showing his strength and sturdy sense of humour. His creative drive is unstoppable, and we're sure you'll agree when you see some of the hits from his catalogue that have been turning heads his way! We'll see you there, and until next time, do what we're planning to do… keep your ear to the ground for some spicy new releases from the Kingpin himself!
For more, check out Lokust's bio here!
www.bluepierecords.com/artist/lokust-luciano
And of course there's DL Down3r, the namesake behind the "Suga Boom Boom" part of the tour. Through fierce and funky west coast rap, DL Down3r shares his prolific work with the rest of the world, and the stage with west coast rap legends such as Coolio, Brown Boy, Jay Tablet, Lil Young, Snoopyblue, LadyDice, Baby Bash, Steel City Hustlers, King Z and DJ Kane to name a few.
From powerful messages, lyrical poetry and sharp comments on society, to G-funk and Trap/EDM hype songs, he proves that age and experience is the opposite of a liability in today's rap game. Blast it loud, get ready to feel something, and rest assured knowing that hip hop never died! For evidence of that, just be there on May 20th and be ready for Avondale to get a wakeup call like it's never had before!
DL DOWN3R | OFFICIAL LINKS: